Thought for the day: Web of deceit
The truth is out there, but disentangling it from the scams is more than Simon Moores can do.
The truth is out there, but disentangling it from the scams is more than Simon Moores can do.
Paranoia caught up with me last week. I had been reading about the next wave of phishing scams, when an e-mail arrived in my Hotmail account confirming a seat had been reserved for me to see Ladies in Lavender at a cinema in Finchley and that my credit card had been debited £15 for two tickets by the Vue Cinema's online box office

Download this free guide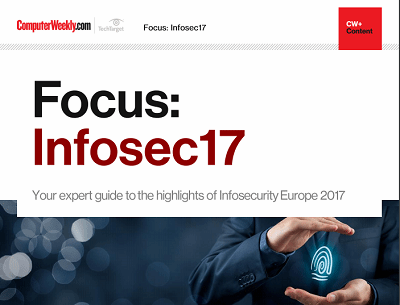 From forensic cyber to encryption: InfoSec17
Security technologist Bruce Schneier's insights and warnings around the regulation of IoT security and forensic cyber psychologist Mary Aiken's comments around the tensions between encryption and state security were the top highlights of the keynote presentations at Infosecurity Europe 2017 in London.
By submitting your personal information, you agree that TechTarget and its partners may contact you regarding relevant content, products and special offers.
You also agree that your personal information may be transferred and processed in the United States, and that you have read and agree to the Terms of Use and the Privacy Policy.
Finchley is about 100 miles from where I live, I had no desire to see Ladies in Lavender and who, I wondered, had used my credit card. Alarm bells started sounding loudly in my head and I was tempted to call the 08712 customer service number on the e-mail, which stated, "If any of the details shown are incorrect please call customer services."
At this point, I decided that it had to be a clever fraud. The first thing anyone is going to do is call the number and if this happens to be a premium rate line, then someone, somewhere, will be making a great deal of money from spamming a few hundred thousand e-mail accounts in the UK.
My next step was to call BT and ask if the phone number was indeed a premium rate line. The operator confirmed it was and suggested a call to telephone regulator Icstis, so my suspicions seemed justified.
The next step was to call Visa and then the National Hi-tech Crime Unit to report what looked like a clever fraud. But the latter very efficiently confirmed that the phone number was indeed that of the Finchley Road cinema and not a premium rate line, which rather left me wondering why the BT operator thought it was.
The police called the cinema manager, who in turn confirmed that a booking had been made in my name and with my e-mail. Both Visa and the cinema then assured me that my own credit card hadn't been used but didn't know who the owner of the credit card for the booking might be.
I'm now looking rather embarrassed. I've involved the police, BT and Visa and I'm still no clearer why someone has booked a cinema seat in my name and with my Hotmail address.
There is however a moral to the story because there are several quite similar frauds in circulation. Frighten the e-mail recipient into calling a premium line in Colombia and before the authorities can act, the bad guys have collected their money and moved on to the next scam.
The real message here is that confidence in the online medium, at least on my side, is declining fast. Instead of a trusted environment the internet is increasingly viewed with suspicion unless the e-mail recipient recognises the person on the message header and even then, who can be certain that anyone is who they say they are any more?
There's an unsolved mystery here but one that clearly illustrates how easy it is to get lured into an internet fraud, with the simple sentence, "The total amount that has been charged to your credit card is GBP15. If any of the details shown are incorrect please call customer services on..." How do we tell any more what's true and what's not. I obviously can't. Can you?
Setting the world to rights with the collected thoughts and opinions of leading industry analyst Dr Simon Moores of Zentelligence.
Acting globally, Zentelligence (Research) advises governments, suppliers, business and the media on the evolution, application and delivery of leading-edge technologies, and specialises in the areas of e-government and information security.
For further information on Zentelligence and its research, presentation and analyst services, visit www.zentelligence.com
Read more on IT risk management