Public lessons for private firms
Many companies are keen to exploit the benefits of mobile IT but fewer have a coherent strategy about how to harness it for the good of the whole organisation.
Many companies are keen to exploit the benefits of mobile IT but fewer have a coherent strategy about how to harness it for the good of the whole organisation.

Download this free guide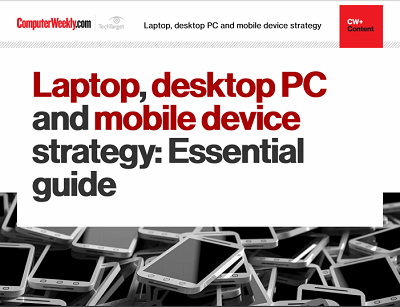 The great debate - to PC or not to PC
IT leaders have greater choice in end-user devices than ever before. The age of PC-only users is over and we have entered the multiple device era. In this guide, you can find best practice, analysis of the latest trends, and expert advice on formulating enterprise strategy in laptops, desktop PCs and mobile devices.
By submitting your personal information, you agree that TechTarget and its partners may contact you regarding relevant content, products and special offers.
You also agree that your personal information may be transferred and processed in the United States, and that you have read and agree to the Terms of Use and the Privacy Policy.
It is all too easy for PDAs and other mobile devices to be applied piecemeal - or even without the IT department's knowledge.
The effective application of mobile IT is an area where many public sector organisations are blazing a trail that private companies could do well to follow. Policing, healthcare and social services, for example, are just some of the areas that depend on a highly mobile workforce who need to capture data and produce reports away from the office.
On page 34 we look at some of the projects that are providing efficiency pay-offs. These demonstrate that deploying new technology is not a solution in itself. The nature of mobile IT demands a cultural shift among those who use it to be truly effective - it provides a very different way of working, rather than merely an improvement on the current way of doing things.
Private companies should bear this in mind and discover new services and business processes that wireless technologies can make possible, just as the internet created a raft of new services that were not previously imagined.
Sound the alert
One in three organisations have no back-up procedures or do not stick to those they have. And almost four out of five store their back-ups in the same building as their datacentres.
These statistics, from a study by research group Quocirca, would be hair-raising enough if the analyst group had only questioned small businesses. But the survey covered organisations both large and small, ranging from financial services, to retail, manufacturing, health and the public sector.
It is clear that many organisations in the UK are ignoring the most elementary information security practices. This raises the prospect of massive data losses and highlights the possibility of widespread non-compliance with regulatory requirements.
In these circumstances it is not good enough for IT staff to hide behind the mantra that security and compliance is the responsibility of the business as a whole. That may be true, but where there is bad practice, where critical data and possibly the future of the organisation is at risk, it is the responsibility of IT leaders to force the issue onto the board.
If we don't, we can hardly complain if we find ourselves grappling with increasingly restrictive compliance and disclosure regimes.
Read more on Mobile networking