Lotus Workplace shows the value of rich clients
A year ago Lotus finally came off the fence and articulated a clear vision for the future of the company, its existing software...

Download this free guide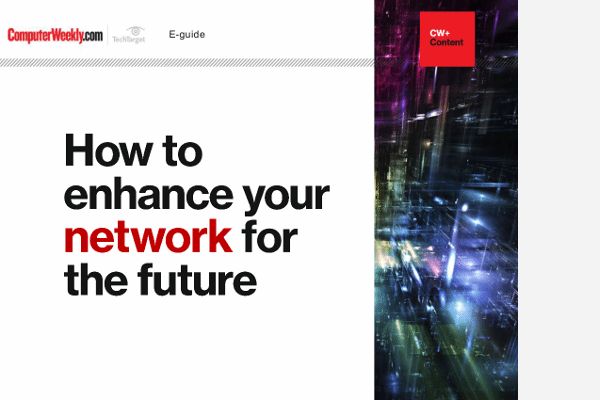 How to enhance your network for the future
Latest on networking developments and directions: NFV, self-optimising networks and IoT enabled smart cities
By submitting your email address, you agree to receive emails regarding relevant topic offers from TechTarget and its partners. You can withdraw your consent at any time. Contact TechTarget at 275 Grove Street, Newton, MA.
You also agree that your personal information may be transferred and processed in the United States, and that you have read and agree to the Terms of Use and the Privacy Policy.

A year ago Lotus finally came off the fence and articulated a clear vision for the future of the company, its existing software and, most importantly, a new set of products. The biggest concern at the time was the ability of Lotus to deliver on the promise of that vision quickly and effectively.

A year on, Lotus has delivered on its promises. Lotus Workplace has been set firmly at the centre of the Lotus strategy. The challenge now is to complete the initial product set (and so maintain momentum) and then develop the wider vision for Workplace.

The first part of this challenge was met with the announcement during the LotusSphere 2004 conference of Workplace 2.0, which will include new rich client capability. It is scheduled for release in the second quarter of 2004.

The conference also provided an insight into how the broader strategy for Workplace and Lotus is unfolding.

Workplace 2.0 and the IBM Workplace Client Technology

The most important element of Workplace 2.0 is the Workplace rich client, based on the new IBM Workplace Client Technology. Rather than simply building a new client product, the Lotus team has taken the opportunity to develop a new operating system-independent client platform based on the Eclipse framework.

In the context of Workplace, the platform enables Lotus to offer users sophisticated, standards-based client collaboration capabilities in both online and offline modes.

Lotus is also addressing cost of ownership by enabling flexible server-based administration of client functionality and updates. This is an attempt by the company to break the limitations of the thin/fat client choice by offering the best of both worlds.

The technology is not just aimed at offering a rich client experience for Workplace. It will also be used as the framework for user interface development across the IBM Software Group.

IBM also sees it as an important part of its increasingly aggressive targeting of the ISP market.

The importance of Workplace

It is important to realise that Workplace is much more than a product. As a standards-based, componentised architecture for collaboration covering server and client technologies, Workplace is also setting a new standard for how software will be developed by IBM in future.

It can be implemented as a series of components, as a complete collaboration platform, or in conjunction with other elements of the IBM portfolio as part of its on-demand strategy. This ties in with the vision IBM senior vice-president Steve Mills has laid out for software development across the software group.

Workplace is enabling Lotus to redefine itself in terms of its competency and capability with regard to user interaction and collaboration, rather than as the developer of Notes/Domino.

As a result, in little more than 12 months Lotus has been transformed from the weakest link in the IBM Software Group to an icon for what the group can achieve if it can truly become more than the sum of its parts.

Eric Woods is research director at Ovum
Read more on IT for small and medium-sized enterprises (SME)