Grid is more than just a buzzword
In less than 18 months grid computing has achieved major success and demonstrated its ability within e-science, across...
This Article Covers
RELATED TOPICS

Download this free guide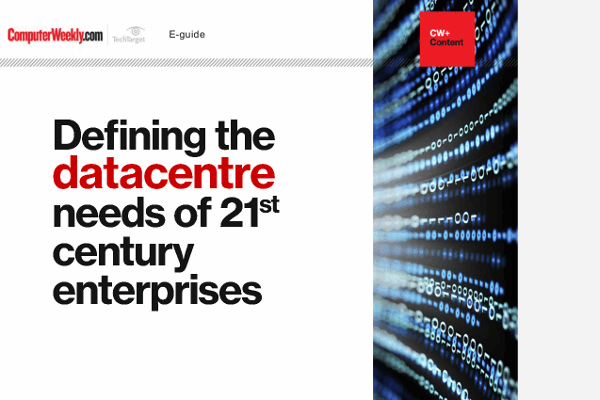 Defining the datacentre needs of 21st century enterprises
A collection of our most popular articles on datacentre management, including: Cloud vs. Colocation: Why both make sense for the enterprise right now; AWS at 10: How the cloud giant shook up enterprise IT and Life on the edge: The benefits of using micro datacenters
By submitting your email address, you agree to receive emails regarding relevant topic offers from TechTarget and its partners. You can withdraw your consent at any time. Contact TechTarget at 275 Grove Street, Newton, MA.
You also agree that your personal information may be transferred and processed in the United States, and that you have read and agree to the Terms of Use and the Privacy Policy.

In less than 18 months grid computing has achieved major success and demonstrated its ability within e-science, across disciplines including chemistry, biology, astronomy, atmospheric physics and medicine.

Grid technology links groups of computers and storage devices to allow organisations to allocate those resources dynamically. But does it have a wider potential? Could all UK companies harness its benefits and, most importantly, is it more than simply the latest technology buzzword?

These questions have been answered in Unlocking the Grid, a report from the Information Age Partnership (IAP), which is chaired by Patricia Hewitt, secretary of state for trade and industry. The IAP has set up a working group to identify the potential for exploitation of grid technologies within the UK.

IAP's Grid Taskforce found that the UK's "strength" industries of digital media, financial services, engineering and life sciences are well placed to exploit the potential benefits of grid computing and sounded a warning to businesses if they do not.

The report said the government should act quickly to apply and exploit grid computing across a wide range of industry sectors. Early adoption will allow these sectors to adjust and exploit service-oriented markets to retain their competitive positions and develop new products, processes and business arrangements.

Specifically, access on demand to high-power, reconfigurable IT resources, where computing is a utility and software is a service, will drastically change the way UK companies work. By providing access to resources more efficiently, by combining resources and services in a way not previously possible, and by allowing the exploitation of dynamic high-value trading relationships, grid computing will enable UK firms to greatly increase their competitiveness.

Pilot projects in user applications have already been carried out, such as in life sciences (computational biology, genomics), engineering (simulation and modelling, just-in-time maintenance) and healthcare ( diagnosis and telematics).

The Grid Taskforce recommended further pilot projects focus on the broader business community, where it sees the most opportunity for benefit.

These pilots would be carried out through its recommended pilot, the Grid Services Consortia, and provide core UK expertise in grid exploitation by bringing together IT and telecoms service providers, major stakeholders, middleware providers, specialist small and medium-sized enterprises and application tools.

So what does the future hold for grid technology? Over the next two years it is most likely to be introduced into large organisations as an internal enterprise grid built behind firewalls, perhaps with controlled links to external grids. Typically these early users will achieve IT cost reduction, increased efficiency, some innovation and flexibility in business processes.

In the next five years and beyond, grid computing will prove it is far more than the latest buzzword. As standards-based tools are developed and consumers begin to access virtualised data resources, it will become a prerequisite for business success - central to business processes, new types of service and a central component of product development and customer solutions.

l John Higgins is director general of suppliers' group Intellect and chairman of the Information Age Partnership Grid Taskforce

Unlocking the Grid report www.intellectuk.org/grid