Apps are key to network productivity
Analysing the performance of applications in relation to the network is now a vital task.

Download this free guide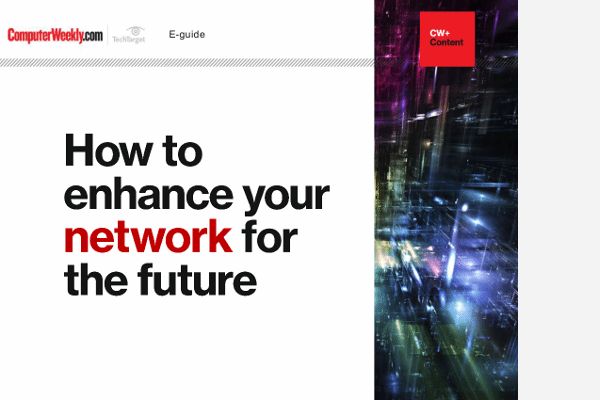 How to enhance your network for the future
Latest on networking developments and directions: NFV, self-optimising networks and IoT enabled smart cities
By submitting your email address, you agree to receive emails regarding relevant topic offers from TechTarget and its partners. You can withdraw your consent at any time. Contact TechTarget at 275 Grove Street, Newton, MA.
You also agree that your personal information may be transferred and processed in the United States, and that you have read and agree to the Terms of Use and the Privacy Policy.

Analysing the performance of applications in relation to the network is now a vital task.



Network performance is something that affects all of our working lives. The network is the central nervous system of a business and therefore monitoring its performance is critical to the efficiency and productivity of any organisation.

End-user complaints about applications running slowly or delays in receiving e-mail messages are often caused by poor network performance. However, network performance is explicitly linked to the applications that sit on it.

As applications become increasingly important to the success of a business, analysing their performance in relation to the network is key to ensuring productivity is not harmed by poorly performing IT systems.

Traditionally, network performance analysis has focused on utilisation and latency. If a network has been heavily used, network managers often cite a figure of 80% or 90% utilisation as the reason for poor performance.

Although utilisation and latency are important factors, they only skim the surface. If network and application performance are to be optimised, network managers need to drill down and look at how applications are performing and the bandwidth they are using.

In fact, as organisations start to realise that certain applications are critical to business success and that without them thousands, if not millions, of pounds could be lost, they are beginning to ask for service level agreements from their IT departments.

So, for example, if a product ordering application is vital to an organisation, business leaders will ask the IT or network manager to provide guaranteed response times from that application. The network manager needs to ensure they have the tools and skills to be able to do this.

IT departments should be looking at the response times end-users get from applications and examining the bandwidth each component of an application is using. By reviewing these types of metrics as well as the amount of traffic generated by an application, network managers will be able to deliver more reliable and often shorter end-user response times.

If a database application is responding slowly people will often blame the problem on a slow network. However, the problem could actually be with the way the database is written and designed.

By analysing the performance of the database, design errors can be found and rectified, hence increasing performance and decreasing user response times.

With more and more businesses using wide area links it is important that network managers look at the utilisation of these links and at what it is that is travelling across those cables.

Often utilisation can be brought down by reconnecting end-users to local servers or by running back-ups overnight.

However, none of this will happen unless network managers use network and application analysis together and start to look at more detailed metrics that will enable them to deliver a better quality of service to their organisations.

Mike Lucas is technology manager at Compuware UK