fredmantel - Fotolia
Government must extend machine learning support across education and industry
The Royal Society believes the UK is well placed to make the most of machine learning, but it is early days and technical and policy issues need addressing
Machine learning algorithms lack common sense, have limited understanding of human intentions and seem incapable of transferring knowledge from one domain to an entirely different problem area.

Download this free guide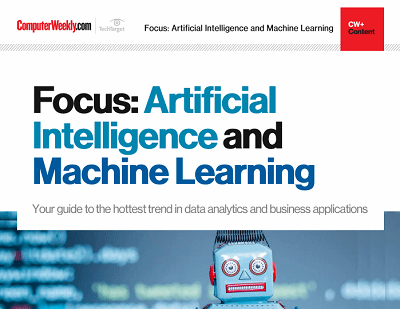 You will be a robot soon
Every conference this year contains a dead human genius reincarnated as software system or a robot. Yes, there is a lot of hype, but there is real worth in AI and Machine Learning. Read our counseling on how to avoid adopting "black box" approach.
By submitting your personal information, you agree that TechTarget and its partners may contact you regarding relevant content, products and special offers.
You also agree that your personal information may be transferred and processed in the United States, and that you have read and agree to the Terms of Use and the Privacy Policy.
These are among the findings of new policy research from a Royal Society special interest group, looking at the application of machine learning, barriers to progress and the public's perception of the technique.
The research, Machine learning: the power and promise of computers that learn by example, highlights several areas of improvement for artificial intelligence (AI) and calls on the UK government to support machine learning skills development.
An explosion of data growth has meant machine learning algorithms are now being used to improve on certain human tasks.
But the Royal Society noted that the industry faces challenges in creating algorithms that can computationally scale to large datasets, as well as the need to develop powerful hardware to run these algorithms.
The organisation also sees a need for the industry and academia to research ways to build resource-efficient machine learning that reduces the power and data requirements of today's deep learning algorithms.
Separately, the Royal Society highlighted the lack of transparency in modern machine learning, which makes it impossible for a human to figure out the steps the machine took to reach a particular outcome.
When applied to specific problems, machine learning can surpass human abilities. Peter Donnelly, chair of the Royal Society's working group on machine learning, said: "Over the last two to three years, computer vision systems can now perform at least as well as humans. Speech recognition systems, which have been around for 20 years, are also getting quite good."
New algorithms and advances in the speed of computing are pushing the boundaries of machine learning.
"There are a gazillion images on the web," said Donnelly. "The prevalence of that data has led to change."
Huge impact on society
The Royal Society's report predicts that machine learning will have a huge impact on society over the next five to 10 years.
Among the areas the report examined is what needs to be done to enable the UK to take a leading role in the development of machine learning. Donnelly added: "Machine learning will have an increasing impact on our lives and lifestyles over the next five to 10 years. There is much work to be one so that we take advantage of the potential of machine learning and ensure that the benefits are shared, especially as this could be a key area of opportunity for the UK in the coming years."
Donnelly said the UK is in a strong position, both in terms of academic and commercial research and startups supported by government policies. He said society and the government need to look at machine learning critically and in terms of stewardship, to decide how it should evolve.
"We are at quite an early stage in the development of the technology," he said. "Now is the time to think seriously about how we want it to grow, the steps we should take to maximise the potential impact of machine learning and, as a society, they ways we want it to develop."
Among the challenges facing machine learning is the massive skills gap, with the migration of skills from academia to the big six machine learning companies – Amazon, Apple, Facebook, IBM, Google and Microsoft.
The Royal Society has set out an action plan for machine learning in the UK, in which it called on the government to increase training of the next generation of machine learning leaders at PhD level and beyond. It also urged the government to consider introducing funded courses on machine learning and build digital skills across schools to universities and in the workplace.
Earlier this month, the government announced it would invest £93m in AI over the next four years as part of its $1bn Industrial Strategy Challenge Fund.
Read more on Artificial intelligence, automation and robotics