Consulting lucrative gig for baby-boomer CIOs
Many CIOs are turning to consulting and project-based work to keep working. Some do it by choice. But a growing number do it because it beats being out of work altogether.
More and more, older CIOs are getting into the consulting game. For some, it's a way to keep busy after retirement. But others have no choice.

Increasingly, baby-boomer CIOs are finding themselves the victims of subtle age discrimination. As they get older, finding that next job gets harder.

Download this free guide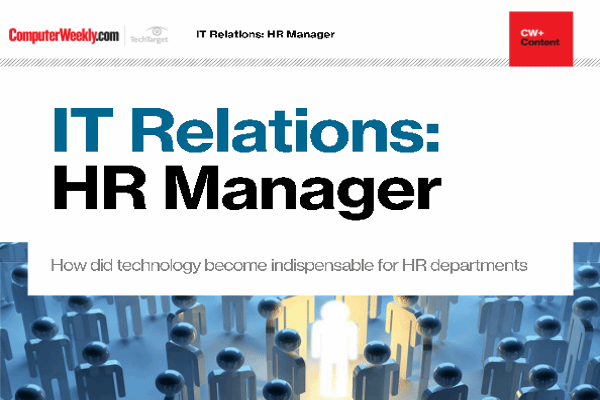 How did technology become indispensable for HR departments
HR and IT departments have begun to work closely together over the last few years. While HR historically has often received limited attention, companies now understand the key role the department plays in the business.
By submitting your personal information, you agree that TechTarget and its partners may contact you regarding relevant content, products and special offers.
You also agree that your personal information may be transferred and processed in the United States, and that you have read and agree to the Terms of Use and the Privacy Policy.

"A lot of guys who are between jobs are doing consulting," said Michael Rumak, the former CIO of Enesco Group Inc., an Itasca, Ill.-based maker of home décor products. "The primary focus for those that have been out of work is that they manage to at least pay the bills with consulting work. It's not what they want to do long term, but at least it pays the bills."

But this isn't a problem unique to CIOs.

Research by the AARP has found that older job seekers spend more time unemployed than younger ones. The average duration of unemployment for workers age 55 or older was 24.1 weeks in 2005. Workers younger than 55 were unemployed for an average of only 17.1 weeks.

When companies shop for a new CIO, age isn't necessarily an explicit issue. Age discrimination is illegal. No one asks, but older CIOs know the question is always out there.

Rumak, a former vice president of international information systems at New York-based cosmetics firm Revlon Inc., was recruited in 2005 by the CEO of Enesco. When a leadership shuffle ousted the CEO this spring, Rumak, without a CEO sponsor, soon followed her out the door. Finding a new CIO position has been tough for Rumak. With children in college, he's started consulting. At 52, Rumak believes age has something to do with his slow job search.

"We recognize that we're going to have a tough time going against the 30-year-olds," he said. "There's no use complaining about it. We are what we are."

He also attributed part of his trouble to a lack of local contacts. He relocated from New Jersey to Chicago when he joined Enesco. Rumak has joined several local networking groups in order to establish new contacts.

"What I discovered at these networking meetings was that I was not alone, that many senior IT people are out there looking for positions," Rumak said. "What was impressive about that and scary was that people who are quite well known have been out of work for three or four years."

Some CIOs join a consulting firm and draw a full-time salary while others have enough assets and savings to live comfortably while doing part-time consulting. They may not even need the money. They simply want to stay busy. But others work full time as self-employed consultants to keep earning the equivalent of a full-time salary.

"I managed over the years to build a nest egg," Rumak said. "My first thought was, do I have enough left to just call it quits and do part-time work or part-time consulting? Unfortunately, I have two kids to put through college. So I need to have that kind of income."

Tim Bretz, a consultant with The W Group, a Malvern, Pa.-based consultancy, said he moved to consulting 10 years ago after an early retirement (he was only 51) from his position as CIO of Blue Bell, Pa.-based PMA Insurance Co. For Bretz, the transition to consulting was his choice, on his terms.

"It was just the sameness," he said. "There wasn't a great deal of variety. The challenge wasn't really there anymore, and I just felt I was losing the edge, the sharpness I had had. I was looking to make a change. I hadn't really considered consulting until [I received] a retirement package. Then a friend pointed me to consulting."

However, when the consulting firm Bretz joined was acquired by another firm a few years later, he and his colleagues were laid off. Bretz considered finding a new CIO position. He soon realized his age was an issue.

"I tried to see what was out there with regular work," Bretz said. "That's the roadblock I ran into. I was 58 or 59, and that's just the way it is. It's been that way as long as I can remember. I recall going through r&eacte;sumés myself and having the same response -- these people are getting a little long in the tooth. It's illegal maybe, but it's on your mind."

Faced by these prospects, Bretz went back to consulting with The W Group, where he helps companies set up outsourcing deals.

"Generally, when I get paperwork from someone who is up over 55, there is not too much I can do," said John Wilson, president of Wilson-Douglas-Jordan, a Naperville, Ill.-based IT recruiting firm. "I tell them they should have stayed with their company, or I tell them they should try consulting."

Wilson said the reality of age sneaks up on a lot of CIOs who think they're keeping up on the latest and greatest technologies, only to learn that they're just one step ahead of legacy.

"I don't think it's technical obsolescence at all," said Mark Polansky, senior client partner and leader of the Information Technology Center of Expertise at Korn/Ferry International, a Los Angeles-based executive recruitment firm. "I think it's more a question of perceived energy level. I think people shying away [from older candidates] is more an issue of energy. CIOs have to be available at crazy hours, at all hours, and they have to keep up with the younger people."

Polansky said he looks for energy and passion when he interviews CIO candidates.

"We look for a sparkle in the eye and fire in the belly," he said. "Sometimes that fire goes out, and that's what the market is concerned about. We still see plenty of people who have those attributes at 60. And we are just as likely to see no fire in the belly of a person who is in his 30s."

In 2000 Sheleen Quish was senior vice president of insurance operations and information technology for the life and health division of Chicago-based insurer Unitrin Inc. That year she was recruited to join U.S. Can Co., a Lombard, Ill.-based packaged-goods container manufacturer. She served as the company's vice president and global CIO for five years.

During her tenure at U.S. Can, Quish watched the company cycle through several CEOs and CFOs. Sensing that her position wasn't especially secure, she started looking around for her next job. Quish, now 58, left U.S. Can in 2005. She hasn't been able to find a new CIO position since.

"As I analyzed the people who were getting the jobs -- because even in Chicago it is a relatively small IT community -- I was able to see that the people getting the jobs were 10 years younger than I. I was finding that the other people in the community who were sitting on the bench were people in my age group."

Quish turned to consulting as a way to keep herself involved in the industry. At this point, she has no interest in being a CIO again.

"I'm finding that I'm really loving it," she said. "Without working very hard at generating business, I'm getting business."

But, for Quish, and many other older CIOs turned consultants, health insurance is an issue.

"I'm finding that to be a real challenge," Quish said. "It's a very significant step to take because as you get older, insurance is a bigger and bigger deal. If you have a spouse and can get on their plan, that's the best option."

Quish said she plans to self-insure with a high-deductible plan. She is creating a health savings account, where she will put thousands of dollars in reserve that will generate dividends while it sits there.

For many retired CIOs in consulting, ageism was never an issue.

Bob Feingold has retired twice, first as a colonel from the U.S. Air Force in 1991. At the time he was commanding a 1,000-person unit that managed IT for the Cheyenne Mountain Complex, the famous Colorado Air Force complex that once housed the North American Aerospace Defense Command and the United States Strategic Command. The underground complex itself was retired this summer.

Following his retirement from the military, Feingold moved on to an IT career in Colorado state government. He retired as CIO of the state in 2003, when he was "just shy of 61."

Feingold formed Feingold Consulting LLC, and he generates most of his business through his contacts in government IT.

Colorado's Department of Natural Resource, where he once served as CIO several years before, asked for his help with a process improvement project. After the project was over, the department asked him to serve as CIO again. But Feingold had no interest in taking a permanent position again.

"I said I was already retired, so I acted in an interim role to help them get over the hump and hire somebody to do that job. I was with them for about eight months in both functions," Feingold said.

Feingold continues to consult and teaches IT strategic planning at Regis University in Denver. At this stage, he could simply retire to a life of leisure, but he says that isn't for him.

"I wasn't built that way. And anyways, I'd get thrown out of the house. My wife doesn't want a sedentary man around."

Let us know what you think about the story; email: Shamus McGillicuddy, News Writer
Read more on IT jobs and recruitment