Microsoft's Steve Ballmer: Software isn't dead
Microsoft CEO Steve Ballmer assures IT pros that Microsoft will prevail. But was anyone worried?
This Article Covers
RELATED TOPICS
ORLANDO, Fla. -- Microsoft CEO Steve Ballmer took the stage at Gartner Inc.'s annual Symposium/ITxpo in Orlando, the industry's largest conference, to tell thousands of IT professionals that Microsoft will prevail. Duh!

On the subject of search engines, for example, Ballmer acknowledged that Microsoft was not the first and might not yet be the best, but it will not be counted out. "We just keep coming, and coming and coming and coming and coming and coming and coming; we are irrepressible on this," Ballmer said. "The bone doesn't fall out of our mouth easily."

Download this free guide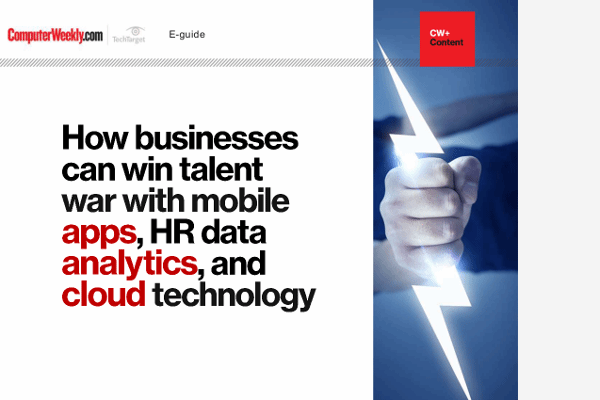 How businesses can win talent war with mobile apps, HR data analytics and cloud technology
Latest articles on HR best practices: mobile apps disrupting the annual staff appraisals; reasons for and against open-source software; and Rolls-Royce case study.
By submitting your email address, you agree to receive emails regarding relevant topic offers from TechTarget and its partners. You can withdraw your consent at any time. Contact TechTarget at 275 Grove Street, Newton, MA.
You also agree that your personal information may be transferred and processed in the United States, and that you have read and agree to the Terms of Use and the Privacy Policy.

The bone doesn't fall out of our mouth easily.
Steve Ballmer
CEOMicrosoft
Interviewed by Gartner analysts David Smith and Yvonne Genovese, Ballmer answered mostly softball questions with the bravura, party line optimism and penchant for loud and alliterative speechmaking that passes for entertainment at IT conferences.

Is this the end of software as we know it?

Certainly not, Ballmer said. Software is in a transition "from software as we have known it, to forms in which it will be better than ever," he said. Software is not dead but at the dawn of an era when it delivers the same "click-to-run" capability provided by Web sites, he asserted. And of course, Microsoft is at the frontlines with Live, a set of Internet software and services that includes Live.com, a platform intended to battle Google, Yahoo and others in the age of Web 2.0.

"At the end of the day -- and obviously I am very biased on this topic -- I think a huge percentage of the value that gets delivered through information technology comes from the software."

Nor is this the end of the mammoth software projects (think Vista) that have caused many vendors, not just Microsoft, so many problems. Instead, what the industry requires, Ballmer said, employing a favorite metaphor , is fast-twitch, medium-twitch and slow-twitch muscles.

"We need to have fast-twitch muscles that can ship things every few months. We need to have medium-twitch muscles that can ship things every year, and we need to have slow-twitch muscles that might ship every two or three years. So, I don't think we are at the end of large-scale, long cycle innovation, but the expectation is that there will be enough output from these other muscles," Ballmer said.

As for how Microsoft can possibly compete with "free," as one attendee asked, referring to open source, the indomitable Ballmer hooted that the world's largest software company has been competing with free, whether it is Linux or OpenOffice, for several years.

"And the truth of the matter is, we're going to be competing against open-something for a long time, and that's not going to go away. And that means we're going to have to push and push and push and push and push… AND WE HAVE TO PUSH SOME MORE!" Ballmer screamed. Microsoft's customers ultimately care about value -- total benefit minus cost, he said.

As for the future of Microsoft, Ballmer said in schoolboy French, "The more things change, the more they stay the same." Microsoft will continue to adhere to basic core principles that have been its legacy, investing in multiple separate core businesses. Software is an innovative business, he said: "You innovate or go away." He promised to be the champion of innovation at Microsoft.

Ballmer also does not anticipate breaking the company up, but sticking to its multi-core, large footprint approach. "Most of the people that we compete with are disaggregated. But I think part of the way we create value is by taking the unique approach in our industry of being multi-core," Ballmer said.

Looking ahead

What are the top three areas of growth for Microsoft for the next five years? On an absolute dollar business, he said, the company's desktop and server enterprise business will generate the most growth. On a percentage bias, the most growth will come from the online and entertainment world.

When asked how Microsoft could expect to compete on the entertainment front with Google, which just bought YouTube last week, Ballmer shook that off, asserting that a large portion of YouTube is copyrighted material, and people are happy to distribute their content anywhere. Microsoft's tenacity will come in handy here, too.

Ballmer got his usual laughs, but attendees collared after the show said the ground he covered was pretty familiar terrain.

"He's always an entertaining speaker, but I didn't hear anything new. It was the same old, same old," said Bill Sciannella, the department head of a large IT and research department of the federal government.

Sciannella did think it was significant that Microsoft is coming off a good recruiting year, agreeing with Ballmer that talent will determine whether Microsoft will keep a place at the cutting edge of technology. He added that he doesn't particularly like Microsoft as a company, but "at the end of the day, my department doesn't have a lot of choice, and they get my money. Because? As Ballmer says, 'look at the value it delivers.'"

Let us know what you think about the story; email: Linda Tucci, Senior News Writer
Read more on Business applications