IBM adds more FC and DAS but dithers on iSCSI
IBM announces new entry-level Fibre Channel and direct-attached storage arrays, but is missing an iSCSI product.
This Article Covers
RELATED TOPICS
IBM has introduced two new entry-level storage arrays, both offering large capacities at a low price point, for small- to medium-sized businesses (SMB). However, neither supports iSCSI, which leaves IBM without a product in this space as the rest of the industry begins aggressively selling IP SAN technology.

The new DS3200 direct-attached SAS array and DS3400 4 Gbps Fibre Channel (FC) array are based on LSI Logic's 1333 and soon to be announced 1932 systems, respectively. They replace IBM's DS300 (iSCSI) and DS400 entry-level arrays based on Adaptec Inc. products. The demise of IBM's OEM deal with Adaptec, around these products, has been rumored for months. The DS300 and DS400 will be phased out within the next 90 days, according to Alex Yost, director of product management for System x, at IBM.

Download this free guide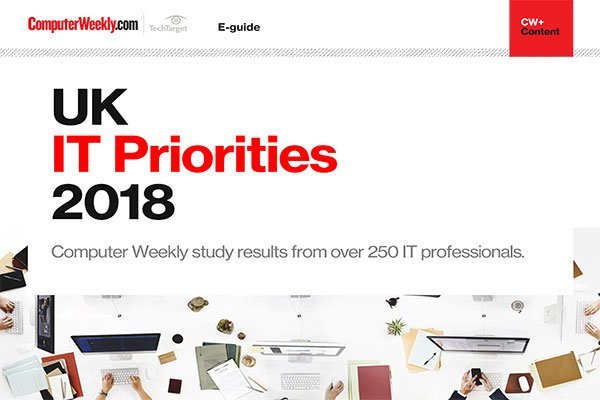 UK IT Priorities 2018 survey results
Download this e-guide to discover the results of our 2018 UK IT Priorities survey, where IT leaders shared with us what they are going to be investing in over the coming 12 months.

By submitting your personal information, you agree that TechTarget and its partners may contact you regarding relevant content, products and special offers.

You also agree that your personal information may be transferred and processed in the United States, and that you have read and agree to the Terms of Use and the Privacy Policy.

"We have had iSCSI products, and we do have them, but there's just no announcement today," Yost said. "Stay tuned … there's a few months to wait." IBM resells most of Network Appliance Inc.'s portfolio, including the N3700 (NetApp's FAS 270), which supports NAS, FC and iSCSI, but is not an entry-level product.

The N3700 "is the low end of the N-series but it's still a midrange solution," according to Eric Vonderhaar, customer engineer, at Mainline Information Systems, an IBM reseller and integrator.

Historically, IBM was the first of the major vendors to get on board with iSCSI, shipping the 200i system in June 2001. It phased out this product a year later having sold next to no units. The 200i was an IBM server with extra storage and an iSCSI front-end as opposed to a purpose-built iSCSI array. Big Blue's next strategy, in July 2003, was to resell the IP Services Module for the Cisco Systems Inc. MDS 9000 series of FC switches. The eight-port module allowed up to 10 servers per iSCSI-enabled port to access FC-attached storage. This was followed up in September 2004 with the Adaptec deal for the DS300.

Analysts note that IBM's trial and error history with iSCSI is typical of most of the industry. However, the majority of vendors now have their stories straight and are aggressively shipping iSCSI systems. Hewlett Packard Co. (HP) introduced the All-in-One (AiO) iSCSI and NAS box in September 2006, Network Appliance launched StoreVault in June 2006, and EMC and Dell rolled out the AX150 in April 2006. Dell has since teamed up with Microsoft on the NX1950, which is a Dell PowerVault server running Microsoft's Windows Unified Data Storage Server 2003. Of the system startups in the iSCSI market, EqualLogic Inc. and LeftHand Networks Inc. have gained considerable traction in the past 18 months.

"The market is IBM's to lose at this point," said one analyst who preferred to remain anonymous. He noted that IBM is in a difficult position politically with so many partners. "Should they resell the NetApp StoreVault or something from LSI or bundle the Microsoft Storage Server?"

The answer is none of the above for now, but if you're looking for low-end FC or DAS, IBM has plenty to offer. The company's biggest claim with the new DS3000 series is its Storage Manager software, which it says allows users to set up and manage its storage in six easy steps. According to Vonderhaar at Mainline Information Systems, the product is much easier than traditional FC systems, but it's not quite six clicks. "It's six clicks if you are doing a basic setup, but if you have failover RAID arrays, hot spares or partitioning, it's more clicks than that," he said. A configuration wizard drives users through the process.

Both the DS3200 and DS3400 offer an entry-level single controller model and a dual-controller model if required. The DS3200 system is direct-attached storage for IBM System x servers that provides support for clustering and a 3 Gbps SAS connection to the host. The DS3400, which can be direct attached or used in a SAN configuration, supports 4 Gbps FC and works with IBM System x and BladeCenter servers, in addition to select third-party servers.

Both systems support 12 SAS hard disk drives for 3.6 TB and up to three EXP3000 expansion enclosures for a total of 14.4 terabytes. The DS3000 Series is available January 30, 2007 with the DS3200 starting at a list price of $4,495 and the DS3400 at a list price of $6,495.
Read more on Networking hardware