Health IT officials threaten rebel trusts with penalties
Health officials sought to discourage a foundation trust from buying systems outside the NHS IT scheme by threatening to charge for national software even if the trust bought an alternative system, Computer Weekly has learned.
Health officials sought to discourage a foundation trust from buying systems outside the NHS IT scheme by threatening to charge for national software even if the trust bought an alternative system, Computer Weekly has learned.

Download this free guide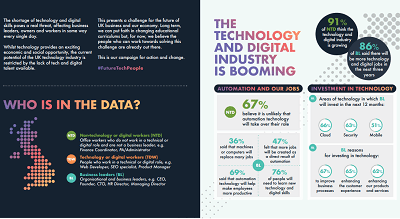 Infographic: Future-proofing UK technology
The shortage of technology and digital skills poses a real threat, affecting business leaders, owners and workers in some way every single day. Whilst technology provides an exciting economic and social opportunity, the current potential of the UK technology industry is restricted by the lack of tech and digital talent available. This presents a challenge for the future of UK business and our economy. Long term, we can put faith in changing educational curriculum but, for now, we believe the people who can work towards solving this challenge are already out there.
By submitting your personal information, you agree that TechTarget and its partners may contact you regarding relevant content, products and special offers.
You also agree that your personal information may be transferred and processed in the United States, and that you have read and agree to the Terms of Use and the Privacy Policy.
The threat, if carried out, could have left Rotherham paying for two hospital systems when it needed only one.
The board of Rotherham NHS Foundation Trust has gone to open competitive tender for a hospital administration system. It is due to make a decision shortly on which system to buy.
But Whitehall officials have made it clear to trusts in the Midlands and north of England, including Rotherham, that they want them to commit to the Lorenzo system which is due to be delivered under the £12.7bn National Programme for IT.
Brian James, chief executive of the Rotherham trust, revealed in an interview with Computer Weekly that health officials had threatened to charge his trust for Lorenzo- even if the trust buys an alternative technology.
Computer Weekly understands that health officials have made similar threats to foundation trusts in other areas. If carried out, it would leave trusts paying millions of pounds for systems they do not install - money that could end up with the NPfIT suppliers as compensation for deployments that Whitehall contractually promised but which didnot happen.
Under NPfIT contracts, trusts are supposed to buy their main hospital administration and clinical record systems from BT and CSC, which have been appointed local service providers.
But years of delays in the delivery centrally-specified systems have left some semi-autonomous foundation trusts going to tender for their own choice of e-record systems. This is jeopardizing the planned unified approach of the NPfIT.
James said his trust needs to replace its Totalcare patient administration system from US-based healthcare specialist McKesson because support for the product is being withdrawn in 2010. Rotherham could not wait for Lorenzo. "We have been unable to get any firm dates for the delivery of Lorenzo," said James.
Asked by Computer Weekly if health officials had put financial pressure on Rotherham to buy Lorenzo, James said, "They told us we would probably have to pay more. We would have to pay for the system they would have given us [in addition to any other system the trust bought]. It would still from a financial perspective pay us to do that."
If all trusts buy from BT and CSC, it will help the Department of Health's NHS Connecting for Health to meet its contractual commitments to the suppliers. CSC and BT have £4bn worth of NPfIT contracts which commit the Department of Health to giving them a minimum amount of business.
If trusts refuse to buy from the two suppliers, the companies can levy a "non-deployment" charge. A lawyer, John Yates, a partner at legal firm Beechcroft, said in an article last year that non-deployment charges were becoming a bone of contention between trusts and the Department of Health.
Yates said, "The department's legal right to penalise trusts buying outside NPfIT is unclear, but anecdotal evidence suggests that the department is using its political and financial muscle to force trusts to follow NPfIT, and so perhaps Monitor [the regulator of foundation trusts] needs to look into this urgently."
James believes he has persuaded the local health authority, Yorkshire and Humber, not to charge for Lorenzo. This is because Rotherham's chosen system is "interim" - and interim systems are allowed under the NPfIT while trusts await the full version of Lorenzo. Rotherham plans to keep its "interim" system for at least eight years, and go to the tail end of the national roll-out of Lorenzo , if that ever happens.
Yorkshire and Humber Strategic Health Authority made no comment.