Mobile collaboration to deliver borderless organisation
Cisco suggests transformational power of collaboration and network will enable businesses to thrive
This Article Covers
RELATED TOPICS
Believing that the transformational power of collaboration combined with the power of the network as the platform will enable businesses to thrive, Cisco has united its collaboration tools within its Unified Wireless Network environment.

Download this free guide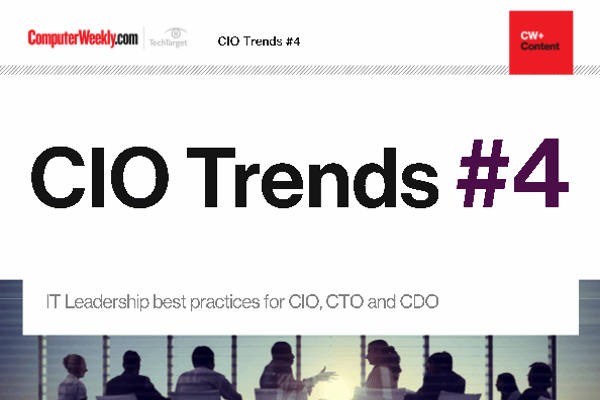 Stay on top of your game
Read about the latest trends and priorities of IT leaders: how to prepare for GDPR, make use of blockchain, transfer lessons from other sectors and become a hybrid IT and digital leader.
By submitting your personal information, you agree that TechTarget and its partners may contact you regarding relevant content, products and special offers.
You also agree that your personal information may be transferred and processed in the United States, and that you have read and agree to the Terms of Use and the Privacy Policy.
The new Collaboration in Motion integrates products and services from the Cisco WebEx, Cisco Unified Communications, Cisco Unified Wireless Network and Cisco Advanced Services product lines to bring the collaborative experience to the mobile workspace.
The new initiative will see new products and services in what Cisco regards as five critical investment areas: the workspace experience; the wireless network platform; third-party applications; technology partners; professional services. Cisco believes that such an approach will bridge the gaps between on-premises wired networks, off-premises cellular networks and Wi-Fi network, thereby enabling collaboration from any workspace.
To improve worspace experiences, Cisco is supporting an increased number of devices and claims to be simplifying the way these devices connect to the wireless network. In the first part of the strategy, the iPhone version of the WebEx Meeting Center version 1.2 application will be made available for free as a download from Apple's Apps Store. It will allow hosts to schedule meetings and invite attendees before and during the meetings.
A new Compatible Extension Services program will modularise features into four services – foundation, management, collaboration and context-aware, allowing device manufacturers to select the most relevant service for a specific device.
Cisco will also deliver an 802.11n solution that incorporates access points, controllers and management, and the ability to expose network information and services through an open API. The company claims independent testing validates the platform's ability to deliver orders of magnitudes improvements to video and rich media collaborative applications.
What are described as advanced professional services will aim to assist customers in the design and deployment of wireless networks to accelerate return on investment and reduce total cost of ownership. Cisco and its channel partners will offer expertise to help facilitate the design, deployment and optimisation of next-generation wireless networks that enable collaboration through mobility services.
"Together, the transformational power of collaboration combined with the power of the network as the platform can enable businesses to thrive. Evolving modern businesses are comprised of workspaces that are rarely physically connected, and critical business information is collected and shared with mobile devices such as laptops and smart phones," commented Ray Smets, vice president and general manager for the Cisco Wireless Networking Business Unit.
Read more on Mobile hardware