Olympics adds to National Grid pressure
The London Olympics is set to put immense pressure on the National Grid.
UK datacentre managers are concerned that there will not...
This Article Covers
RELATED TOPICS
The London Olympics is set to put immense pressure on the National Grid.
UK datacentre managers are concerned that there will not be enough power to support datacentres in the South East, warns Gartner research director, Rakesh Kumar. "In London, Gartner clients are worried about potential power outages," he says.

Download this free guide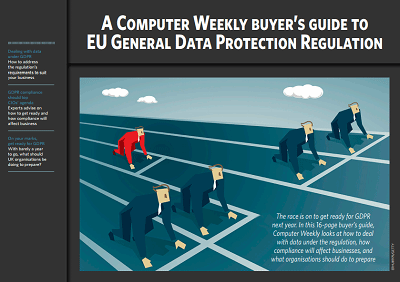 Computer Weekly's Buyer's Guide to GDPR
The race is on to get ready for GDPR next year. Computer Weekly looks at how to deal with data under the regulation, how compliance will affect businesses, and what organisations should do to prepare.
By submitting your personal information, you agree that TechTarget and its partners may contact you regarding relevant content, products and special offers.
You also agree that your personal information may be transferred and processed in the United States, and that you have read and agree to the Terms of Use and the Privacy Policy.
UK businesses are more exposed than ever before as older power stations are decommissioned. Power required by the London Olympics may push the grid to breaking point.
Unless there is investment in new power stations, the UK may risk power cuts. A report from Capgemini has found that the UK risks major power outages. Electricity output has fallen by 2.2% to its lowest level in 10 years - placing the UK at risk of power shortages in the near future unless more stations are built.
Alistair Green, executive consultant at Capgemini believes there will be sufficient power only if power companies continue to invest in new power stations, but he says, "They will only build new power stations on the basis they can get their money back." The economic climate may make it harder for the power companies to justify the expenditure now.
Datacentres will inevitably have to run more efficiently, whatever happens on the UK National Grid. The EU has recently published a best practice guide to help datacentre managers improve energy efficiency.
Tony Day, a global director at datacentre equipment provider APC, who was a technical consultant on the Code of Conduct, says, "The code of conduct will require changes to the way datacentresare run."
The EU Best Practices Code of Conduct for datacentresrecommends that datacentre managers run their data facilities at the lowest level of IT resilience needed to support the business, because the more resilience built-in, the greater the power usage.
The EU also suggests that IT managers buy software based on the estimated energy usage of the product, and implement storage policies that take into account the cost of keeping data online in disc arrays. Datacentre should operate at the highest temperature possible, between 17-27 degrees Celsius to reduce the need for extra cooling.
Read more on Data centre hardware