IT workers in Three Peaks Challenge raise money for charity
IT departments have helped raise £100,000 for charity in the Three Peaks Challenge, supported by Computer Weekly.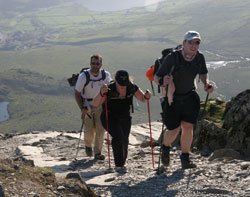 IT departments have helped raise £100,000 for charity in the CARE 3 Peaks Challenge, supported by Computer Weekly.
Sponsored teams from various companies climbed the three highest mountains in Scotland, England and Wales in under 24 hours. The event saw teams first tackle Ben Nevis in Scotland, Scafell Pike in Cumbria's Lake District, and finishing with Mount Snowdon in North Wales.
[For more Three Peaks Challenge photos, see our editor's blog.]
Money raised will go to international aid and development agency CARE International. The organisation works in nearly 70 countries, helping 55 million people find a route out of poverty.
The team from oil and gas equipment supplier FMC Technologies took the quickest time, completing the task in 21 hours, 44 minutes.
Team member Mark Cairney, an IT systems support analyst, said, "It's a challenging event but there's some good experience in the team."
Team leader Richard Preston, a contractor at the firm, has been undertaking challenges organised by CARE International for the past 13 years.
The key, he said, was "to keep eating and drinking", but for others the priority was keeping their footwear in one piece.
The team from Selfridges saw colleague Dave Shaw climbing Scafell Pike with a flapping sole. It was held together with laces for the Snowdon climb. A flapping walking boot wasn't the only accident the Selfridges team experienced. Its hire van suffered extensive damage following an incident with a dry stone wall leaving Scafell Pike. The van used by the Johnson & Johnson EMEA consumer IT team also broke down in Scotland.
Business intelligence systems consultant Conchango entered three teams in the event. When asked how this challenge compared to rolling out a business intelligence (BI) system at Associated News, BI consultant Josie Williams said, "It's certainly different, but I'm not sure whether I'll be able to do it again."
Colleague Mick Horne, a veteran of the event, said he was looking forward to getting back on a plane to the US to continue a BI roll-out at Chevron.
The team from bakers Warburtons were slightly less exhausted, but this was their first event. Damien Ghee, IT director at the firm, said, "We're a team of mixed abilities and the main target for us is to just finish. But the organisation of the event has been superb and the support has always been there for us."
The team to raise the most from the event was Charles Taylor Consulting, with over £11,000 raised for CARE International. Team leader Dan Micola, a finance system administrator, said, "This has been the first time for the firm at this event, but it has been a great bonding exercise."
Three days of brilliant sunshine made for a memorable weekend, as weary climbers reached each summit to be rewarded with spectacular views as far as the eye could see. A very long 24 hours after setting off from the foot of Ben Nevis, teams reached the finish line at the base of Snowdon in a state of elated exhaustion.
IOP team leader Kate Boothby described the challenge as a totally awesome experience. "I had my moments during training, fundraising and the challenge itself seriously wondering why I had signed up for it, but I wouldn't swap it for anything, and I know the rest of the team feel the same."
See also:
More Three Peaks Challenge photos, on our editor's blog