CIOs need to take a venture-capitalist approach to IT
CIOs need to adopt a venture-capitalist approach to IT if they are to remain relevant in the prevailing climate of economic growth, according to Dave Aron, vice-president and research director for Gartner executive programs.
CIOs need to adopt a venture-capitalist approach to IT if they are to remain relevant in the prevailing climate of economic growth, according to Dave Aron, vice-president and research director for Gartner executive programs.

Download this free guide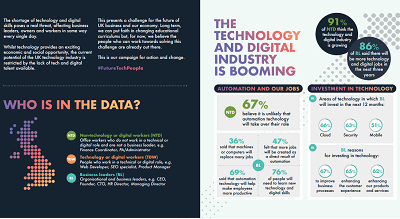 Infographic: Future-proofing UK technology
The current potential of the UK technology industry is restricted by the lack of tech and digital talent available. Read through this challenge for the future of UK business and our economy.
By submitting your personal information, you agree that TechTarget and its partners may contact you regarding relevant content, products and special offers.
You also agree that your personal information may be transferred and processed in the United States, and that you have read and agree to the Terms of Use and the Privacy Policy.
This involves getting to know the growth plans of the business intimately, determining how to use the resources within IT to contribute directly to that growth, and then consulting with business to shape the demands on IT to ensure delivery of growth and not merely support.
"It is no longer enough to focus on good services and complying with frameworks like ITIL and Cobit because these do not guarantee IT will contribute in any way to business growth, which is the prevailing trend in the global market," he said.
Delivering projects that enable business growth has been the top priority of CIOs for the past three years, according to Gartner's annual survey of leading IT professionals.
"Around 60% of CIOs expect their businesses to grow faster than the global economy, which the IMF predicts will grow at around 5% a year until 2012," said Aron.
Gartner said CIOs who are succeeding in delivering direct business growth have typically evolved from providing support and taking orders from business to being more actively growth-oriented.
"Shaping demand is a key role for IT leadership. CIOs should look at the budget, infrastructure, people and skills under their control and find a way of using them to generate as much growth for the business as possible," said Aron.
Gartner said the challenge for CIOs is to understand the growth context for their particular business and then take action to organise IT and IS resources to contribute to the most relevant driver of growth.
"CIOs are generally weakest at engaging business executive peers to understand what types of growth need to be catered for," said Aron.
In a report entitled "The seven levers of growth" Gartner identifies the most common drivers of growth and how CIOs can best contribute to that growth once they have identified which one of the seven is being pursued by their business.
For example, if a company has decided that improving operations is the best lever of growth to pursue, the CIO should not only focus on strengthening operational systems, but should take the opportunity to contribute directly to growth by connecting with customers.
"CIOs need to take ownership of some customer relationships by working as account managers to learn what delights customers and then finding a way for IT to meet those needs," said Aron.
One CIO Gartner interviewed went a step further by asking members of his IT department to work a week in retail outlets of a food service on a regular basis and then contribute directly to growth by coming up with ideas for improving operations informed by their IS backgrounds.
Others examples of how CIOs can make a direct contribution to top-line growth include adding information services to commodity products as a market differentiator, using technology to fully exploit modern communication channels, developing detailed process templates to guide IT through mergers and acquisitions, educating and empowering partners to ensure the business ecosystems keeps pace with growth, and identifying ways of using IT to create new markets where there is no competition.
Gartner's four recommended behaviours for CIOs to gear up for growth:
• Clarify enterprise growth levers and where IS should contribute.
• Build deep business knowledge and behavioural capabilities in IS and contribute proactively to business project definition and prioritisation.
• Go beyond conventional project management and participate in good benefits realisation practices throughout the benefits life cycle.
• Mentor the IS organisation to move from a mindset of "order taker" to a mindset of IT venture capitalist to challenge the value of IT investments.
Read more on IT innovation, research and development