Gordon Brown questioned over EDS contract for tax-credits systems
Gordon Brown was challenged in the Commons regarding the government's settlement with technology supplier EDS following problems with the tax credit system it supplied.
Gordon Brown was challenged in the Commons regarding the government's settlement with technology supplier EDS following problems with the tax credit system it supplied.

Download this free guide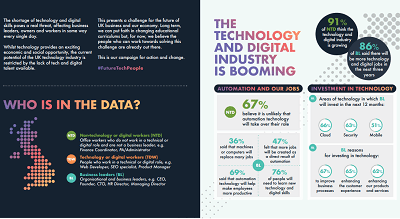 Infographic: Future-proofing UK technology
The shortage of technology and digital skills poses a real threat, affecting business leaders, owners and workers in some way every single day. Whilst technology provides an exciting economic and social opportunity, the current potential of the UK technology industry is restricted by the lack of tech and digital talent available. This presents a challenge for the future of UK business and our economy. Long term, we can put faith in changing educational curriculum but, for now, we believe the people who can work towards solving this challenge are already out there.
By submitting your personal information, you agree that TechTarget and its partners may contact you regarding relevant content, products and special offers.
You also agree that your personal information may be transferred and processed in the United States, and that you have read and agree to the Terms of Use and the Privacy Policy.
Brown was told that it could take as long as 106 years for IT supplier EDS to pay all the money due as part of a legal settlement over problems with tax credit systems.
The settlement was raised at Brown's first Prime Minister's Questions by Tory MP Richard Bacon, a member of the Public Accounts Committee.
Bacon said: "EDS has to pay £71m in compensation to HM Revenue and Customs. £44m was up front with a further £26.5m in staged payments but at the present rate of progress it would take 106 years for the Exchequer to receive the money it is due. Does the Prime Minister think that is a satisfactory rate of progress, and if not what is he going to do to get the money that is owed to the taxpayer?"
Brown gave no direct reply. But said, "We are talking about a commercial arrangement between a firm and the government, a commercial arrangement that was then renegotiated. The Public Accounts Committee and any other organisation is welcome to look at it but I am satisfied that we have done what is right in the public interest."
HM Revenue and Customs, which runs the tax credits system, had wanted the unprecedented terms of the legal settlement between EDS to be kept secret. But they were disclosed by the department under pressure from the Commons' Public Accounts Committee.
It transpired that about £26.5m of a £71m settlement between EDS and the Exchequer over problems with tax credit systems is paid by the supplier based on future business it wins from the government. Officials had announced the compensation payable by EDS over tax credits as a record sum for any government settlement of an IT-related dispute. But they did not admit initially that £26.5m of the £71m would be paid back according to how quickly EDS won new government business.
If EDS does not win further significant business from the UK government, or the contracts are smaller than expected, HMRC Revenue and Customs may be left having to go to court to claim the money.
EDS has never made any specific provision in its accounts for any of the compensation settlement. This has prompted suggestions among some MPs that the compensation deal was a face-saving device for Whitehall after years of tax credit problems, only a small part of which was due to IT.
If EDS pays off the remaining £26m at the rate it did in 2006 - with annual instalments totalling less than £250,000 - it would take more than 100 years for EDS to pay off the entire £26.5m due.
EDS executives could argue, however, that if they win one of two large contracts, the entire amount they owe could be paid off in one or two instalments.
An official at HM Revenue and Customs has said of the settlement: "We are absolutely determined to collect every penny of what is owed come hell or high water."
But no Whitehall department has yet taken its main IT supplier to a full open court hearing over the failure of an IT contract.
The House of Commons Public Accounts Committee has criticised the settlement and the secrecy surrounding it. The Public Accounts Committee said in a report in March 2006, "Government should not be placed in the invidious position of having to commission further work from a contractor in order to recover compensation for underperformance."
Richard Bacon is expected to raise the question of the EDS settlement at a meeting of the Public Accounts Committee next week, and directly with HM Revenue and Customs at a hearing in the autumn.

Tax credits compensation linked to EDS contract wins >>

How far is this tax fiasco down to IT? >>

Revenue has "lost control" as cost of IT contract soars >>

Public spending watchdog slams EDS compensation deal >>

Government settles for £71m in compensation from EDS over tax credits >>


Comment on this article: computer.weekly@rbi.co.uk