Harmful effects of Wi-Fi scrutinised
The potential harmful effect of Wi-Fi radiation will come under scrutiny in a BBC Panorama programme tonight
The potential harmful effect of Wi-Fi radiation will come under scrutiny in a BBC Panorama programme tonight.
The BBC found that radiation levels from Wi-Fi in one school was up to three times the level of mobile phone mast radiation. Schools are increasingly installing Wi-Fi networks to aid learning.

Download this free guide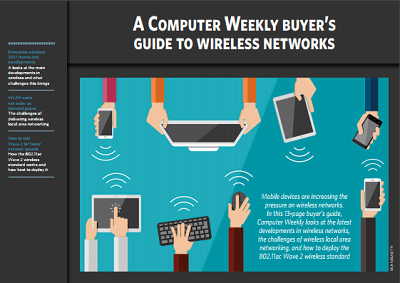 Carrying the heavy wireless burden of mobile devices
Mobile devices are increasing the pressure on wireless networks. In this buyer's guide, Computer Weekly looks at the latest developments in wireless networks, the challenges of wireless local area networking, and how to deploy the 802.11ac Wave 2 wireless standard.
By submitting your personal information, you agree that TechTarget and its partners may contact you regarding relevant content, products and special offers.
You also agree that your personal information may be transferred and processed in the United States, and that you have read and agree to the Terms of Use and the Privacy Policy.
While the readings were 600 times below the government's radiation safety limits, the programme is expected to fuel the debate over potential risks of Wi-Fi - particularly among young children who could be under greater risk.
In the Panorama programme, the measured Wi-Fi signal strength in a classroom at a Norwich school was three times higher than the main beam of radiation intensity from a mobile phone mast.
The UK Health Protection Agency has recommended that the beam of greatest intensity from any phone mast should not fall on any part of school grounds, unless the school and parents have agreed to it.
The Panorama programme is broadcast at 8.30pm tonight on BBC1 (21 May 2007).
Cliff Saran's fear, uncertainty and doubt blog >>
Computer Weekly's managing technology editor Cliff Saran writes on the highs and lows of the IT industry, looking at the technology trends that matter to corporate IT, and those that don't. Read what he has to say about Wi-Fi madness.
City switches on Wi-Fi network >>
Wi-Fi Alliance certifies faster standard >>
ULCC pilot shows wireless network benefits >>
Wi-Fi Alliance certifies faster standard >>
Tony Collins' IT projects blog >>

Comment on this article: e-mail computer.weekly@rbi.co.uk
Read more on Wireless networking