MoD must improve communications and embrace enterprise IT systems
The Ministry of Defence should expand its technology expertise and coordinate management to facilitate business change, according to a BCS debate.
The Ministry of Defence should expand its technology expertise and coordinate management in order to facilitate business change, according to a BCS debate.

Download this free guide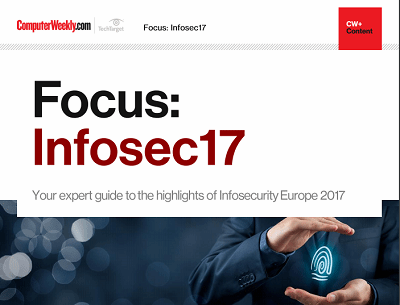 From forensic cyber to encryption: InfoSec17
Security technologist Bruce Schneier's insights and warnings around the regulation of IoT security and forensic cyber psychologist Mary Aiken's comments around the tensions between encryption and state security were the top highlights of the keynote presentations at Infosecurity Europe 2017 in London.
By submitting your personal information, you agree that TechTarget and its partners may contact you regarding relevant content, products and special offers.
You also agree that your personal information may be transferred and processed in the United States, and that you have read and agree to the Terms of Use and the Privacy Policy.
The BCS Hot Topics security debate aimed to confront the challenges of implementing an enterprise approach to information services in the defence industry.
The organisational systems in place at the Ministry of Defence have to constantly evolve to respond to new challenges and the various issues that surround providing support for mobile users.
The Ministry of Defence has recognised that good information architecture, supported by the appropriate people and processes, is needed in order to achieve an environment for effective communications.
A panel of experts from industry and defence felt that self-imposed boundaries and segregated groups within the Ministry of Defence were affecting its ability to operate effectively.
Good communication is critical in making any enterprise approach work, but many participants felt that military organisations are typically very bad at inter-departmental communication and that they suffer as a result.
The Ministry of Defence is good at operating within its segregated groups - no longer just army, navy and air force but now logistics, acquisitions, HR, etc, - but is bad at communicating between these sections, the debate heard.
Joined-up enterprise thinking in the defence industry is not merely an option: it has been demonstrated that it is essential. One of the things that has to be overcome, apart from the exclusive focus on IT, is a culture of cynicism. This is based on the historical failure of IT programmes of all shapes and sizes.
Management also has to be able to communicate its enterprise-level beliefs across the whole organisation, not only to the board, said debate participants.
So what can the Ministry of Defence and other organisations with similar problems do? Enterprise management by stealth, perhaps?
A number of small organisations supporting the Ministry of Defence are quietly driving enterprise approaches forwards within the areas of logistics, operations, etc. With a set of common tools and approaches, they are pushing for changes in the organisation.
If successful, this plan may just achieve the joined-up enterprise thinking that the Ministry of Defence needs without giving the appearance of big changes in the organisation.
MOD signs multi-million data search deal with Autonomy >>
Fire and rescue authorities join MoD's networking framework >>
Tony Collins' blog
Computer Weekly's award winning investigative reporter gives the inside scoop on government IT
Comment on this article: computer.weekly@rbi.co.uk