Consumers lead, corporate IT users follow says Ernst & Young
IT companies of all sizes are struggling to find their position in an increasingly mature and consolidated European market, and...
IT companies of all sizes are struggling to find their position in an increasingly mature and consolidated European market, and they must "differentiate or die", according to professional services company Ernst & Young.

Download this free guide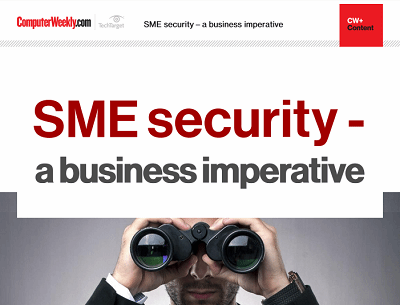 The secret to winning - SMEs and cyber security
50% of SMEs plan to spend less than £1000 on cyber defenses in the next year and only 42% of SMEs are concerned about ransomware. Anyone see a problem? Computer Weekly outlines some solutions to this growing naive trend.
By submitting your personal information, you agree that TechTarget and its partners may contact you regarding relevant content, products and special offers.
You also agree that your personal information may be transferred and processed in the United States, and that you have read and agree to the Terms of Use and the Privacy Policy.
Ernst & Young's fourth annual Technology Insights study said Government spending on IT has kept the UK technology market buoyant, while the markets in Germany and France have been hit by competition from Eastern Europe and India.
The report said that as customers demand greater reliability rather than technological edge, IT companies have had to reshape the way they serve clients by developing partnerships within the sector.
This in turn could lead to further consolidation in the IT industry, said Ernst & Young.
Nick Powell, Ernst & Young UK head of technology, said "IT is settling into a mature market with different characteristics for hardware, software and services. Companies need to find their position or niche and agree alliances. But above all they must differentiate or die."
The report says smaller companies are particularly vulnerable. Where they once tried to sell direct to larger corporate customers, they must now partner with global contractors to gain access to large customers and tap into their skilled management teams.
Powell said, "No single IT company is in a position to provide every one of the components a customer needs. The market is becoming increasingly inter-dependent and companies of all sizes are jostling to find their role in the technology market. Innovators still have their role but the bar for what defines innovation is much higher."
Powell said global IT businesses are capitalising on their partnerships with smaller players by identifying and testing opportunities for targeted consolidation.
"Companies are testing innovative solutions through partnering prior to acquiring the company or withdrawing support," said Powell.
The report says the IT market "hotspots" are IT security, the public sector and compliance, such as Sarbanes Oxley.
But the biggest hotspot is the consumer market. The report says innovation for IT products and services in business is coming from what the consumer wants, such as wireless or pay per use.
Powell said, "The industry has finally cottoned on: the consumer leads, enterprise follows."
Read more on IT for small and medium-sized enterprises (SME)