Judge rejects AMD plea for confidential Intel documents
A US judge has ruled that Advanced Micro Devices (AMD) is not entitled to trial documents that the company said might help it...
A US judge has ruled that Advanced Micro Devices (AMD) is not entitled to trial documents that the company said might help it prove its European Commission antitrust complaint against Intel.

Download this free guide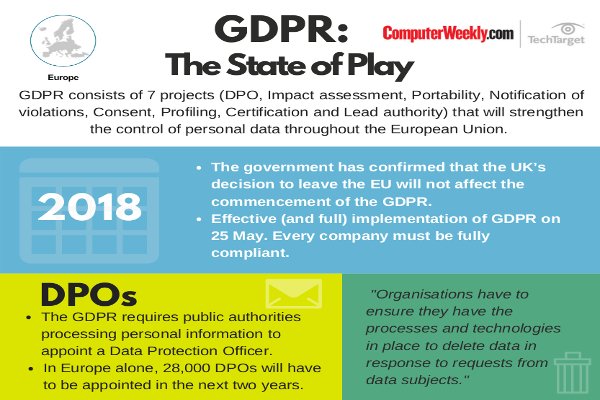 Infographic: GDPR - The State of Play
Get the latest information on how GDPR is going to affect your business and how to avoid any unwanted fines with this simple infographic.
By submitting your personal information, you agree that TechTarget and its partners may contact you regarding relevant content, products and special offers.
You also agree that your personal information may be transferred and processed in the United States, and that you have read and agree to the Terms of Use and the Privacy Policy.
In a case that reached the US Supreme Court earlier this year, AMD attempted to force Intel to turn over confidential documents that were part of the discovery process in an antitrust trial between Intel and Intergraph.
Intel has resisted that request, saying that AMD was not part of any formal litigation with Intel and parties that merely filed complaints with foreign tribunals are not entitled to the same discovery as plaintiffs.
AMD originally asked the US District Court to rule on its request. That court denied AMD's request, but the US Court of Appeals for the Ninth Circuit sided with AMD.
Intel then appealed to the Supreme Court, which ruled in a 7-1 decision that, while District Courts are entitled to provide discovery to parties like AMD in cases involving foreign tribunals, they are not required to do so. This returned the decision of whether or not to provide AMD with the discovery documents in the hands of the US District Court.
US District Court judge James Ware ruled that AMD's request was not valid because Intel is already a participant in the complaint and if the EC really wanted the documents in question, it could order Intel to produce them.
The EC filed a brief with the Supreme Court in support of Intel's position during that debate, telling the court it did not want the documents that AMD sought.
Furthermore, AMD did not make any references to the EC case or even any reference to Europe itself when filing its request for access to the discovery documents, Judge Ware wrote. This means that AMD's request was far too broad to be considered part of the complaint against Intel with the EC, which charged Intel was engaged in anticompetitive behaviour in Europe.
AMD has not decided whether it plans to appeal Judge Ware's ruling, said Mike Simonoff, an AMD spokesman. The company has 30 days in which to make a decision, he said.
Tom Krazit writes for IDG News Service

Read more on IT legislation and regulation