Privacy watchdog condemns US Visit
The United States' new biometric system of border controls violates civil rights without delivering security, the head of the...
The United States' new biometric system of border controls violates civil rights without delivering security, the head of the London-based civil liberties watchdog Privacy International has warned.

Download this free guide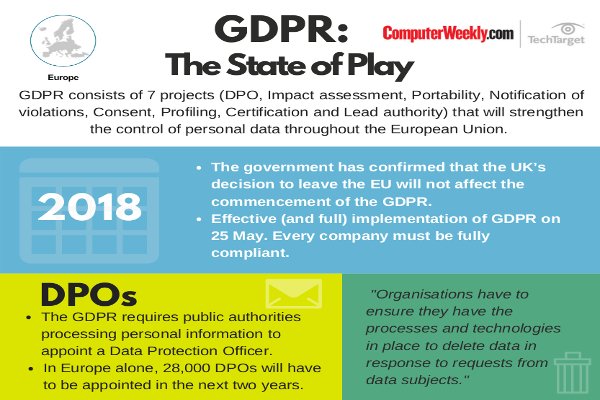 Infographic: GDPR - The State of Play
Get the latest information on how GDPR is going to affect your business and how to avoid any unwanted fines with this simple infographic.
By submitting your personal information, you agree that TechTarget and its partners may contact you regarding relevant content, products and special offers.
You also agree that your personal information may be transferred and processed in the United States, and that you have read and agree to the Terms of Use and the Privacy Policy.
The system involves a "wholesale and aggressive violation" of privacy but was also likely to generate errors and eventually collapse under its own weight, Privacy International director Simon Davies said.
Davies was speaking after the release of a critical report on the US Visitor & Immigration Status Indication Technology System (US-Visit) prepared by Privacy International and published a day after the system, which began operating in January, was extended to cover the citizens of 27 "visa waiver" countries - including the UK. Germany, and Japan - whose populations are considered to be "friendly".
Under the system, supplied to the Department of Homeland Security by the technology services company Accenture, visitors have their photograph taken and undergo two digital index-finger scans before they can pass through immigration controls.
The extension of US-Visit to the visa waiver countries had gone smoothly, US officials said, but Davies warned of future problems.
"This system is actually going to endanger security," he said. "It was introduced shortly after 9/11 with no debate and no consideration of the practical problems involved. I know the system won't perform as promised."
The solution to the US's security problems was not mass surveillance, but targeted intelligence gathering, the privacy campaigner said. "This is using a sledgehammer to crack a nut."
German researchers have already shown that it is possible to fool the system by covering fingerprints with a film of rubber gum, Davies said.
And a statistically significant percentage of people - such as bricklayers or those with severe arthritis - will not be able to use the fingerprinting system, he said. "What happens when I visit the US and I have my arm in a sling? What do they do then? There are dozens of cases where there is likely to be trouble."
Davies sees the development of an integrated and interoperable global system, with the likely adhesion of countries in the EU, Canada, Australia and Japan, as a further threat to civil liberties and to the reliability of the system.
"As the system grows the opportunity for error will rise exponentially," he said. "That's a mathematical equation you can't escape, but it seems to have slipped the minds of US and European officials."
The Privacy International report predicts that there could be as many as a billion identities within a global biometrics and data system within 15 years, if major countries follow the US lead. "The potential for mass error in such a system cannot be overstated," it says.
The report cites the case of Brandon Mayfield, the Oregon lawyer whose fingerprint was wrongly matched with that on an unexploded backpack used in the 11 March terrorist bombings in Madrid, as an example of the unreliability of current fingerprinting technology for establishing identity.
"This programme is a slap in the face for those countries that have regarded the United States as a friend and ally," Davies said. "The fate that befell Yusuf Islam (formerly known as the singer Cat Stevens) will happen to a countless number of other travelers.
"They too will have no rights under US law when falsely accused and deported." Islam was barred from entering the US last month on national security grounds.
Davies said flaws in the system could seriously disrupt air travel to the US and its eventual collapse could undermine confidence in the US security apparatus.
"I don't believe that an imperfect system is better than nothing," he said. "I think this is going to endanger security. They made a huge error of judgement to appease public opinion in the US."
Philip Willan writes for IDG News Service>>
Read more on IT legislation and regulation