HD-DVD goes to brink of mass production
The DVD Forum has approved the physical disc specifications for the rewritable version of high-definition/high-density DVDs,...
This Article Covers
RELATED TOPICS
The DVD Forum has approved the physical disc specifications for the rewritable version of high-definition/high-density DVDs, taking the format a big step nearer to mass production.

Download this free guide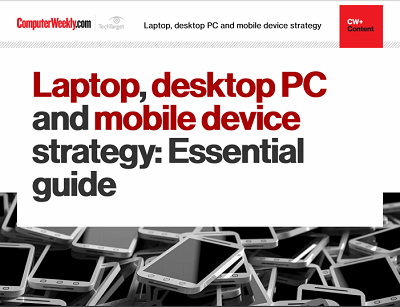 The great debate - to PC or not to PC
IT leaders have greater choice in end-user devices than ever before. The age of PC-only users is over and we have entered the multiple device era. In this guide, you can find best practice, analysis of the latest trends, and expert advice on formulating enterprise strategy in laptops, desktop PCs and mobile devices.
By submitting your personal information, you agree that TechTarget and its partners may contact you regarding relevant content, products and special offers.
You also agree that your personal information may be transferred and processed in the United States, and that you have read and agree to the Terms of Use and the Privacy Policy.
Toshiba spokeswoman Junko Furuta said the association had approved version 1.0 of the HD-DVD-RW physical specification for a single-layer disc with a capacity of 20Gbytes.
Version 1.0 is the key specification that allows manufacturers to consider mass production of a product involving new technologies.
The association also approved version 0.9 physical specifications for the HD-DVD-R recordable disc. HD-DVD-Rs will be single-layer, 15Gbyte discs. Version 1.0 is expected to be approved in February 2005.
The organisation approved version 1.0 of the physical specifications for HD-DVD-ROM discs in June this year. HD-DVD-ROMs will be single-layer, 15Gbyte discs or dual-layer, 30Gbyte discs.
The physical specification defines the physical properties of the disc, such as the number of layers and capacity. Furuta said the application specifications, which define how data signals are written into the structure of the discs, would be decided in early 2005.
The approval is the latest step between two major formats which are battling to replace DVDs with optical discs that store much more data.
Opposing the HD-DVD format is the Blu-ray Disc format, whose backers include Sony, Dell, Hewlett-Packard, Hitachi, LG Electronics, Matsushita (Panasonic), Mitsubishi, Philips, Samsung and Sharp.
Toshiba, Memory-Tech, NEC and Sanyo said they would form an association to promote HD-DVDs.
Sanyo cited HD-DVD's ease of manufacturing compared with Blu-ray as the reason for its support. The company became the third major Japanese consumer electronics company to opt for HD-DVD after NEC and Toshiba. Memory-Tech is a DVD disc maker.
Sony has said that its upcoming PlayStation 3 games console will be compatible with Blu-ray.
Toshiba expects to start selling HD-DVD players and recorders by the end of 2005, with players costing under $1,000 (£550), according to Furuta.
The DVD Forum is an association of more than 220 consumer electronics, entertainment, software and related companies that determines DVD disc specifications.
Paul Kallender writes for IDG News Service