Ford aims to drive down print costs
Ford has estimated that its maintenance and support costs for office printing are in the range of $40m to $50m, and cannot say...
Ford has estimated that its maintenance and support costs for office printing are in the range of $40m to $50m, and cannot say for certain how many printers are installed.

Download this free guide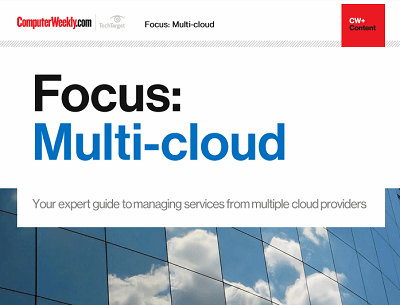 Mixing and matching your cloud options
Many IT leaders are increasingly coming round to the idea that sourcing services from one or more providers might be the best way to go. From a cost and resiliency perspective, some workloads might work better in one cloud over another. Or a certain provider might boast some functionality that suits a particular process the enterprise is looking to implement, but falls short in other areas, prompting the company to adopt a mix-and-match procurement strategy. Join us as Computer Weekly takes a closer look at the multi-cloud approach and what providers are doing to capitalise on the trend.
By submitting your personal information, you agree that TechTarget and its partners may contact you regarding relevant content, products and special offers.
You also agree that your personal information may be transferred and processed in the United States, and that you have read and agree to the Terms of Use and the Privacy Policy.
However, the automotive company has maintained that studies and pilots indicate under its recently signed agreement with Hewlett-Packard, it can reduce printing costs by up to nearly a third.
The printer outsourcing agreement with HP follows pilot projects at Ford facilities in London and Dearborn, Michigan. Ford and HP officials declined to disclose the value of the contract.
Ford is one of the largest and most visible companies to outsource its printing services. But analysts say there is accelerating interest in improving printer management and many companies choose to outsource.
"The problem that Ford has is very, very common," said Gartner analyst Ken Weilerstein. "[Companies] don't really know how they are using the equipment, and they really can't pinpoint the benefit from what they've got."
Gartner estimated that by the end of next year, 60% of companies will have undertaken initiatives to cut document printing costs.
Ford has a proliferation of printers that came into the company "one way or another", said Johnson. These printers are not managed and are often ink-jet models, which are cheap to buy but expensive to run, he said.
HP will install multifunction laser printer devices that can be networked, giving Ford the ability to monitor printer use through a portal. Ford employees will replace paper and toner, but HP will manage the remaining functions.
Printer outsourcers are paid in a variety of ways, from per page to fixed rates. But key to any payment method is having a view into how printers are used,.
Patrick Thibodeau writes for Computerworld
Read more on IT outsourcing