Hitachi claims highest capacity enterprise drive
Hitachi has announced what is believed to be the highest capacity enterprise-class hard drive launched so far.
This Article Covers
RELATED TOPICS
Hitachi has announced what is believed to be the highest capacity enterprise-class hard drive launched so far.
The Ultrastar 10K300 - standing for 10,000rpm and 300GB - is a 3.5-inch drive with Ultra 320 SCSI and 2Gbit/s Fibre Channel interfaces.
Hard drives are generally divided into desktop and enterprise models with enterprise models built for more demanding use. Typically they will prioritise speed over raw capacity. Desktop drives will tend to emphasise capacity.

Download this free guide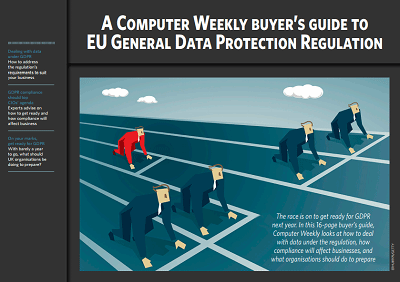 Computer Weekly's Buyer's Guide to GDPR
The race is on to get ready for GDPR next year. Computer Weekly looks at how to deal with data under the regulation, how compliance will affect businesses, and what organisations should do to prepare.
By submitting your personal information, you agree that TechTarget and its partners may contact you regarding relevant content, products and special offers.
You also agree that your personal information may be transferred and processed in the United States, and that you have read and agree to the Terms of Use and the Privacy Policy.
There is no formal definition of enterprise class. However, the HDD manufacturers are all competing for server business from EMC, IBM and Hewlett-Packard, and their requirements will define enterprise HDD features.
Seagate Technology's desktop Barracuda offers 200GB capacity at 7,200rpm. Its enterprise Cheetah drive offers 10,000rpm and up to 147GB.
Western Digital's desktop Caviar drive offers up to 250GB at 7,200rpm. Its enterprise Raptor has up to 74GB at 10,000rpm.
Maxtor's desktop DiamondMax Plus 9 features 7,200rpm and 200GB. The enterprise Atlas 15K has 73GB at 15,000rpm. The enterprise Atlas 10K has 147GB at 10,000rpm.
However, Maxtor has a MaXLine II offering 300GB at 5,400rpm. The company said this is for nearline storage applications which it positions as less than enterprise class in terms of demands on the drive's longevity and performance. Such drives use the ATA interface and have a near 10msec seek time and 46Mbit/s throughput.
Hitachi's latest drive has 300GB at 10,000rpm, offers an 89Mbit/sec sustained transfer rate and sub-5msec seek time in comparison.
Recently Seagate announced a new generation of 2.5-inch drives and emphasised drive array I/O performance over sheer capacity. Hitachi too has 2.5-inch drives.
Chris Mellor writes for Techworld.com
Read more on Server hardware