Deutsche Bank considers further outsourcing
Deutsche Bank has said it is more than satisfied with the results of its year-old outsourcing agreement with IBM and considering...
Deutsche Bank has said it is more than satisfied with the results of its year-old outsourcing agreement with IBM and considering expanding its partnership with the company.

Download this free guide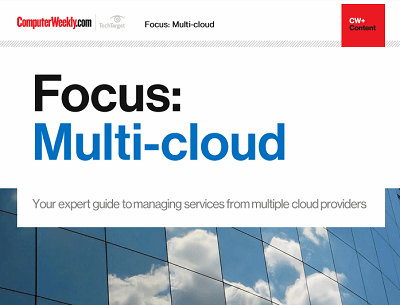 Mixing and matching your cloud options
Many IT leaders are increasingly coming round to the idea that sourcing services from one or more providers might be the best way to go. From a cost and resiliency perspective, some workloads might work better in one cloud over another. Or a certain provider might boast some functionality that suits a particular process the enterprise is looking to implement, but falls short in other areas, prompting the company to adopt a mix-and-match procurement strategy. Join us as Computer Weekly takes a closer look at the multi-cloud approach and what providers are doing to capitalise on the trend.
By submitting your personal information, you agree that TechTarget and its partners may contact you regarding relevant content, products and special offers.
You also agree that your personal information may be transferred and processed in the United States, and that you have read and agree to the Terms of Use and the Privacy Policy.
"We are achieving what we set out to do with this outsourcing deal - reduce costs and increase our access to new technology," said Deutsche Bank chief technology officer Clemens Jochum, speaking at the Strategic IT Management conference.
Just over a year ago, Germany's largest bank outsourced a large part of its European IT operations to IBM.
The $2.5bn, 10-year contract, which included the consolidation of datacentres in eight European countries, should save Deutsche Bank around $1bn in annual operating costs.
Jochum said IT managers at the bank were constantly asked by heads of the business units "to change this and tweak that" and preferably at no added cost.
"We were very flexible then but, quite honestly, we don't want this type of flexibility anymore because, when all the numbers are added up, it's too costly," Jochum said. "Now we have an exact price list for every service, something we never had before. We can see exactly what drives costs. In the past, IT infrastructure costs were a big black hole. "
Jochum referred to outsourcing as a "very extreme internal auditing of IT costs".
Jochum admits it is a challenging process - and one that is not totally free of error. A glitch last year caused an interruption in service, he said, but even that technical problem underscored the benefits of having an outsourcing agreement.
Deutsche Bank is exploring other outsourcing opportunities not only in the area of computer infrastructure but also software.
"We see that [outsourced] coding works well in Eastern Europe and India," he said.
John Blau writes for IDG News Service
Read more on IT outsourcing