Novell joins Eclipse consortium
Novell has expressed its commitment to Linux and open-source development by unveiling a handful of products at LinuxWorld in New...
Novell has expressed its commitment to Linux and open-source development by unveiling a handful of products at LinuxWorld in New York and announcing it has joined the Eclipse consortium.

Download this free guide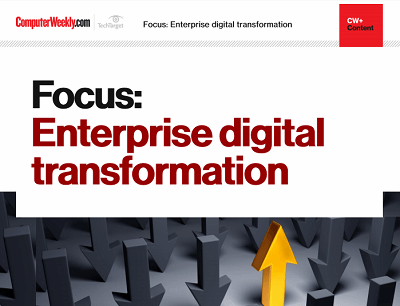 Are you digital to the transformation?
Digital transformation - the buzzword that we can't get away from. Enterprises need to accelerate their digital transformation journeys to avoid being left behind in an increasingly digital world. It's not an easy feat, but one that can be costly to get wrong. Join us as Computer Weekly takes a look at how businesses can stay on track through collaboration, innovation, and listening to user needs.
By submitting your personal information, you agree that TechTarget and its partners may contact you regarding relevant content, products and special offers.
You also agree that your personal information may be transferred and processed in the United States, and that you have read and agree to the Terms of Use and the Privacy Policy.
In joining Eclipse, Novell will be able to offer developers a common tooling strategy for its developers by providing a more unified environment for building, testing, and debugging solutions that cross the breadth of its applications.
"As we have moved our Linux strategy forward, enhancing our secure identity management and Web services products, the missing component has been a unified development environment that allows us and partners to work across all Novell technologies," said Novell vice chairman Chris Stone.
Novell also rolled out the first beta release of its GroupWise 6.5 for Linux messaging product, and the finished version is expected to be available in the first half of this year. The product features native support for the company's Ximian Evolution workgroup information management application.
Version 6.5 will be part of Novell's Nterprise, a set of offerings designed to enhance communication as well as simplify and automate network management.
Novell said Ximian Red Carpet Enterprise is now capable of maintaining and managing IBM's eServer systems working in a SuSE Linux Enterprise Server environment. The product will be able to now offer centralised and automated management and maintenance of IBM's Linux on Power eServer systems, as well as Big Blue's zSeries of mainframes.
Novell formally rolled out its exteNd 5 product, a services-oriented application development suite designed to help corporate users to design and develop web services more quickly. The product has drag-and-drop tools that enable enterprise developers to integrate legacy systems and applications using web services. These services can then be orchestrated into business processes and delivered through portals requiring no programming.
Ed Scannell writes for InfoWorld
Read more on Operating systems software