Co-op wins retrial in £11m battle with ICL
Retailer, the Co-operative Group, has been granted the right to have its £11m legal case against ICL, now named Fujitsu, over a...
Retailer, the Co-operative Group, has been granted the right to have its £11m legal case against ICL, now named Fujitsu, over a failed electronic point of sale project sent back for re-trail.

Download this free guide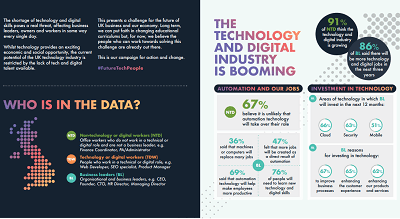 Infographic: Future-proofing UK technology
The shortage of technology and digital skills poses a real threat, affecting business leaders, owners and workers in some way every single day. Whilst technology provides an exciting economic and social opportunity, the current potential of the UK technology industry is restricted by the lack of tech and digital talent available. This presents a challenge for the future of UK business and our economy. Long term, we can put faith in changing educational curriculum but, for now, we believe the people who can work towards solving this challenge are already out there.
By submitting your personal information, you agree that TechTarget and its partners may contact you regarding relevant content, products and special offers.
You also agree that your personal information may be transferred and processed in the United States, and that you have read and agree to the Terms of Use and the Privacy Policy.
Three Appeal Court judges concluded that the original trial judge, Richard Seymour QC, had fundamentally erred in his approach to the original 20-day trial. His judgements were coloured by a mistaken conviction that Co-op managers were engaged in an elaborate conspiracy to undermine the project, they said.
The 44-page decision vindicates the Co-op chief executive, Graham Melmouth, its IT director Keith Brydon, and senior members of the Co-op IT staff who were accused in a judgement by the Technology and Construction Court of lying to support the Co-op's claims.
The appeal court ruled that Judge Seymour had shown a consistent preference for ICL's evidence and had consistently found the that the principal witnesses of the Co-op had lied or acted in bad faith - an approach which meant that his "objective vision was distorted".
"Reluctant as we are to reach these conclusions and mindful as we have been throughout this appeal of the damaging and inherently undesirable consequences of the parties having to face a re-trail, we nevertheless have decided there is no alternative," the court said.
The re-trail will re-examine the Co-op's claim for damages against ICL for breaching a contract to supply the supermarket group with its GlobalStore electronic point of sales software to an acceptable level of quality by the agreed deadlines.
The Co-op regarded the software as a key plank in the merger of the Co-operative Retail Services and the Co-operative Wholesale Society to form a single UK-wide integrated supermarket chain of 1,100 stores.

The Co-op and ICL began work on the project in March 2000, but the Co-op pulled out in January 2001, only weeks before the final drop of the software was due to be delivered, when ICL refused to agree to penalty clauses for late delivery.
The Technology and Construction Court threw out the Co-op claim for damages in January this year, following a 20-day trial, ruling that ICL and the Co-op had failed to agree a valid contract.
The judge decided that Co-op managers had deliberately tried to undermine the project because they had a festering grievance over ICL's performance over another contract in the Co-op's funerals business and wanted to avoid paying ICL nearly £1 million in uplift fees.
The appeal judges, Lord Justice Tuckey, Lord Justice Rix and Lord Justice Jonathan Parker, said that it was highly improbable that Co-op managers would have been willing to place a vital £12 million project at risk to save less than £1million.
Fujitsu told the court that it was considering an appeal to the House of Lords.