Vote expected on US anti-spam bill
The US Congress moved a step closer to passing its first law regulating spam when the US House of Representatives approved a bill...
The US Congress moved a step closer to passing its first law regulating spam when the US House of Representatives approved a bill which seeks to impose fines on those sending spam.

Download this free guide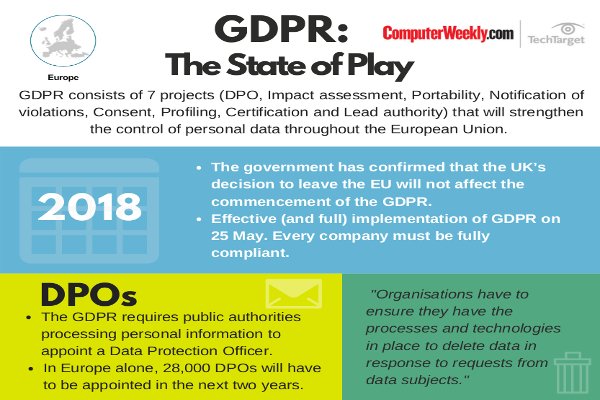 Infographic: GDPR - The State of Play
Get the latest information on how GDPR is going to affect your business and how to avoid any unwanted fines with this simple infographic.
By submitting your personal information, you agree that TechTarget and its partners may contact you regarding relevant content, products and special offers.
You also agree that your personal information may be transferred and processed in the United States, and that you have read and agree to the Terms of Use and the Privacy Policy.
The Controlling the Assault of Non-Solicited Pornography and Marketing Act, known as Can-Spam, was approved by a vote of 392-5. The move follows the US Senate's approval of its version of the Can-Spam Act in October with a 97-0 vote.
The two bills need to be merged into joint legislation before it is presented to president George Bush for his approval. It is expected that the Senate will accept the House's wording of the bill and that Bush will sign the bill into law before the end of the year.
The vote came after the House Energy and Commerce Committee was able to broker an agreement on Friday to attach a provision in the bill for a "Do-Not-Spam" registry based on the country's "Do-Not-Call" registry for unwanted and unsolicited telemarketing telephone calls.
Microsoft chairman and chief software architect Bill Gates praised the House for its approval of the bill, calling the legislation a critical component in the broader fight against spam.
"Microsoft particularly supports the strong enforcement provisions, and the ban on falsifying the origin of e-mail solicitations and illegally obtaining lists of e-mail addresses, both of which will help Internet service providers prosecute spammers," he said.
In contrast, the Coalition Against Unsolicited Commercial Email (Cauce), condemned the bill as being weak against marketers and for overriding tougher "opt-in" legislation passed by various states, including California. The "opt-out" method touted by the Can-Spam Act puts the onus on individual users to let companies know that they do not wish to receive spam.
The California law, which is due to take effect on 1 January, seeks to prevent e-mail users from getting e-mail ads unless they asked to be on the sender's list and would impose stiff fines on senders of unsolicited messages.
Cauce also criticised the Can-Spam Act for limiting enforcement "to overworked regulatory and law enforcement agencies, rather than giving consumers legal tools with which to protect their own inboxes".
Laura Rohde writes for IDG News Service
Read more on IT legislation and regulation