Novell buys Ximian
Novell has acquired Ximian, one of the major drivers behind the Gnome project to create a Linux-based desktop and Mono, software...
Novell has acquired Ximian, one of the major drivers behind the Gnome project to create a Linux-based desktop and Mono, software that allows applications developed under Microsoft's .net to run on Linux and Unix.

Download this free guide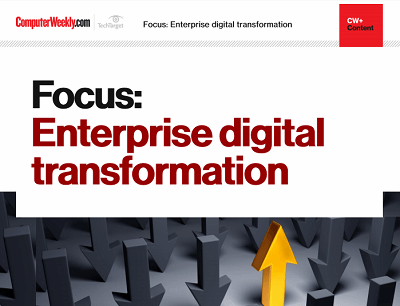 Are you digital to the transformation?
Digital transformation - the buzzword that we can't get away from. Enterprises need to accelerate their digital transformation journeys to avoid being left behind in an increasingly digital world. It's not an easy feat, but one that can be costly to get wrong. Join us as Computer Weekly takes a look at how businesses can stay on track through collaboration, innovation, and listening to user needs.
By submitting your personal information, you agree that TechTarget and its partners may contact you regarding relevant content, products and special offers.
You also agree that your personal information may be transferred and processed in the United States, and that you have read and agree to the Terms of Use and the Privacy Policy.
Novell officials hope the acquisition will also boost its ability to support Linux-based products and enable it to add a full-featured Linux desktop to its lineup of groupware and systems management products, thereby accelerating the acceptance of Linux among enterprise users.
"Customers still face two key business issues: how to provide cost-effective management and maintenance of Linux systems, and how to deploy and support low-cost Linux desktops within the organisation. We think we can deliver leading solutions for both," said Jack Messman, chairman and chief executive officer of Novell.
"Just as importantly, Ximian brings us Linux expertise, and strengthens our ability to work with and using open-source initiatives more constructively," he said.
Key to the deal is the Ximian Desktop 2 product, a complete Linux desktop environment that has an integrated suite of Linux desktop applications capable of supporting Windows file formats and networks.
The company's Ximian Evolution software integrates e-mail, calendaring, contact management, and task lists that are all part of one package.
The product is compatible with Microsoft's Exchange server and Sun Microsystems ONE, and sometime this year will support Novell's GroupWise product.
Ximian founders Miguel de Icaza and Nat Friedman also founded the Gnome and Mono projects, and they will continue to lead both initiatives at Novell, said De Icaza, chief technology officer of Ximian and now chief technology officer for the Ximian Services business unit of Novell.
"It's a huge step forward for the open-source community to gain strong support from a company like Novell. Initiatives like Gnome and Mono will only improve with Novell's resources behind them," De Icaza said.
Ed Scannell writes for InfoWorld
Read more on Operating systems software