Companies fight rogue WLans
Enterprises continue to battle the installation of unauthorised, or rogue, wireless Lan access points (AP) on corporate networks...
Enterprises continue to battle the installation of unauthorised, wireless Lan access points (AP) on corporate networks by employees who are unaware of the security risks.

Download this free guide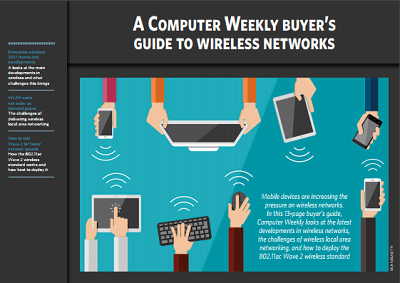 Carrying the heavy wireless burden of mobile devices
Mobile devices are increasing the pressure on wireless networks. In this buyer's guide, Computer Weekly looks at the latest developments in wireless networks, the challenges of wireless local area networking, and how to deploy the 802.11ac Wave 2 wireless standard.
By submitting your personal information, you agree that TechTarget and its partners may contact you regarding relevant content, products and special offers.
You also agree that your personal information may be transferred and processed in the United States, and that you have read and agree to the Terms of Use and the Privacy Policy.
Tom Dillon, manager for mobile and wireless at Hilton Hotels, said the management of a Hilton hotel he recently visited assured him that the property's network had in operation only six authorised WLan APs. Dillon said he set up sniffer software and detected 15 APs at the hotel.
He said this illustrated the continued proliferation of rogue APs, which IT managers need to battle with strict policies.
Dillion also called on companies to institute strong authentication policies to ensure that only authorised users can gain access to wireless networks carrying sensitive business information.
Enterprises need to govern the use of WLan client devices, which can be used in an insecure mode on home or public-access WLan systems.
Hilton now requires that WLan clients, such as cards in laptop computers, be disabled when the laptop is connected to the wired enterprise Lan to prevent injection of Trojan horses picked up when the laptop was hooked up to a home network.
Joe Przeporia, an IT manager at Cargill, said his company's many business units, including manufacturing plants, use such a variety of WLan and fixed wireless technologies "that we are not [yet] equipped with it at a corporate level".
Przeporia added that Cargill has started to develop high-level corporate policies to deal with WLan security, including rogue access points.
Overall, WLan use and security policies will remain a paramount concern for business as high-speed, over-the-air network systems continue to gain market share.
Gartner estimated that sales of WLan chip sets (used in both APs and client devices) totalled 18 million units in 2002, and it predicted that sales will hit 50 million units by 2006.
Read more on Wireless networking