Linksys and Ricochet unveil wireless Wan router
Linksys Group has teamed up with Ricochet Networks to build a router for US homes, small offices and public wireless Lan hot...
Linksys Group has teamed up with Ricochet Networks to build a router for US homes, small offices and public wireless Lan hot spots that uses Ricochet's wireless wide area data service.

Download this free guide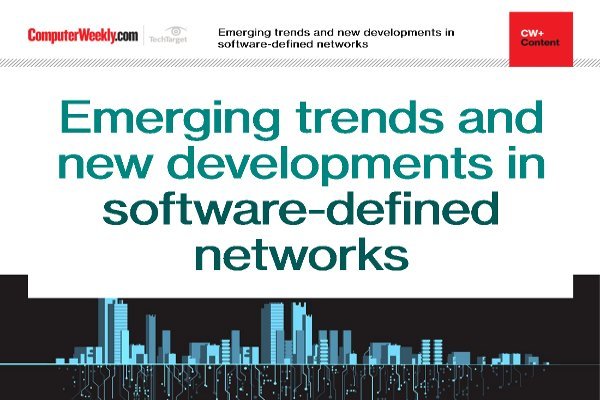 The latest developments and trends in SDN
Join us as we sit down with a number of senior IT managers from multi-national enterprises to discuss the latest trends in the world of software-defined networks.
By submitting your personal information, you agree that TechTarget and its partners may contact you regarding relevant content, products and special offers.
You also agree that your personal information may be transferred and processed in the United States, and that you have read and agree to the Terms of Use and the Privacy Policy.
Users can attach an 802.11 wireless Lan access point to the Linksys Ricochet Router for a fully wireless network or hook as many as four computers or other devices up to the Ricochet wireless service through four 10/100Mbps Ethernet switch ports in the router.
The router, priced at $119.95 (£76), is equipped with a PC Card slot for a Ricochet wireless Wan card, which is sold separately.
Home users can use the PC Card in a notebook PC while out of the house and then plug the same card into the router for shared internet access over a Lan when they get home, said Matthew McRae, director of broadband at Linksys.
In addition, a combined wireless Lan that also uses wireless for its Wan connection can easily be moved and set up anywhere in the carrier's service area, he said. This could be useful for on-site construction networks and other specialised applications.
Another key market for the router will be consumers and businesses in areas where DSL (digital subscriber line) or cable modem-based broadband internet access is not available, he said.
The Ricochet service, operated over the company's proprietary Micro Cellular Data Network, operates at about four times the speed of dial-up internet service. It is live in San Diego and Denver and next will become available in Dallas and Fort Worth. Service in more metropolitan networks will follow.
Ricochet is restarting the network, which was shut down in 2001 because of financial problems. When the existing infrastructure is restarted, it will serve 21 metropolitan areas, said Ricochet spokeswoman Kirsten Hamling.
The company plans to let other internet service providers resell internet access over its wireless network.
Cisco Systems aquired Linksys, a major manufacturer of network equipment for homes and small businesses, earlier this month.
Read more on Wireless networking