Interest in war stalls government websites
The beginning of hostilities in Iraq and the potential increased threat of terrorism has led to a surge of interest in UK...
The beginning of hostilities in Iraq and the potential increased threat of terrorism has led to a surge of interest in UK government information websites, but they are failing to hold up to public demand, research has revealed.
The Home Office's Terrorism Information website failed to meet demand with downloads approaching a minute (56.71 seconds) during the lunchtime period on Wednesday 19 March with availability dropping to just 50%.

Download this free guide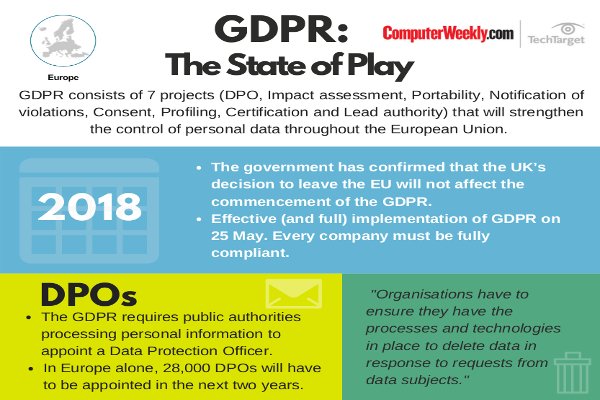 Infographic: GDPR - The State of Play
Get the latest information on how GDPR is going to affect your business and how to avoid any unwanted fines with this simple infographic.
By submitting your personal information, you agree that TechTarget and its partners may contact you regarding relevant content, products and special offers.
You also agree that your personal information may be transferred and processed in the United States, and that you have read and agree to the Terms of Use and the Privacy Policy.
These statistics reveal major server capacity issues from the site, said monitoring firm Keynote Systems, which conducted the research. Indeed, it seems that the threat of terrorism was a very real concern throughout Wednesday as download speeds averaged only 35.49 seconds, the company said.
Of greater importance to UK citizens abroad, the Foreign and Commonwealth Office site also suffered major capacity problems, with download times approaching a minute and a half (76.03 seconds) during Monday afternoon and availability of only 83%. This will have presented problems to anyone trying to access travel advice from abroad, especially if they were using a dial-up connection, Keynote said.
News sites performed better, but they failed to handle the peak in demand over the lunchtime period on Tuesday 18 March, the research found. The BBC news site dropped in performance from an average download speed of 0.47 seconds to 1.88 seconds between 1pm and 2pm, with ITV news mirroring the performance slowdown from 5.66 seconds to 15.84 seconds.
"It was clear from the outset that people would be using the internet as one of their primary information resources throughout any possible conflict and, unfortunately, it seems that government website managers have failed to make adequate preparation for the well-publicised surge in demand." said Andy Didcott, UK country manager at Keynote Systems.
"It particularly concerns me that UK citizens abroad appeared to have been overlooked at a time when the need for home country advice is paramount."
Web news keeps pace with fast-moving Iraq situation >>
Read more on IT legislation and regulation