Sony offers solution to recordable DVD incompatibility
Sony's latest optical disc drive will help to protect companies' investments in recordable DVD technologies, writes Eric Doyle.
This Article Covers
RELATED TOPICS

Download this free guide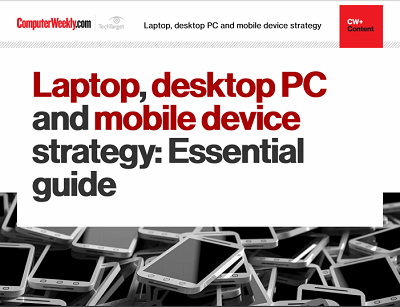 The great debate - to PC or not to PC
IT leaders have greater choice in end-user devices than ever before. The age of PC-only users is over and we have entered the multiple device era. In this guide, you can find best practice, analysis of the latest trends, and expert advice on formulating enterprise strategy in laptops, desktop PCs and mobile devices.

By submitting your personal information, you agree that TechTarget and its partners may contact you regarding relevant content, products and special offers.

You also agree that your personal information may be transferred and processed in the United States, and that you have read and agree to the Terms of Use and the Privacy Policy.

Sony's latest optical disc drive will help to protect companies' investments in recordable DVD technologies, writes Eric Doyle.



DVD is well established as a medium for the distribution of commercial videos but it has yet to catch on as a storage medium, despite having a capacity of 4.7Gbytes per disc compared to 650Mbytes on a standard CD. The main reason for this is the profusion of DVD formats available for non-commercial recording: -R, +R and -Ram.

Sony's DRU-500 disc drive offers a degree of harmonisation by allowing both write-once -R and +R discs and the erasable -RW and +RW discs to be recorded and played. It does not support the more specialised DVD-Ram but can handle recordable CD formats.

The battle between the formats has been a major inhibitor for users, who do not want to commit to technology that could become obsolete in the next few years. Fritz Handke, Sony's marketing sales and operations director, said the new drive can protect investment in a particular format while allowing the flexibility to change if a different format wins through.

Because the DRU-500 drives are the same physical size as current CD players they can easily be built into autochanger, or jukebox, library units. Compatibility with current DVD players will also mean that corporate data and videos can be distributed to remote sites and mobile workers.

Pricing is a crucial factor in the DVD arena - current hardware and media for +R systems are about a third more expensive than for -R. While media prices are not set to change, the price point for the Sony drives is comparable with current single-format -R drives.

The DRU-500A internal chassis-mounted drive will cost about £250 and the DRU-500UL will sell for £379. The drives will be available in the next six weeks.

DVD's incompatible standards

DVD-R/-RW is not as compatible with existing DVD players as +R formats. Write speeds are currently twice normal playing speed but this will soon be doubled. The content must be completely formatted before recording


DVD+R/+RW is compatible with DVD players. Recordings can be made in sections and these sections can be recorded over individually. Record speed is 2.4 times playback speed


DVD-Ram acts more like a traditional magnetic disc and files can be saved and fitted onto the disc wherever space allows. It is not compatible with DVD players but could still find a niche in the datacentre


DVD Multi is a format that combines DVD-R, R/W and -Ram recording in a single drive.