Anger erupts as US company claims JPEG patent
Forgent Networks has announced that it holds the patent to the JPEG (Joint Photographic Experts Group) image compression...

Download this free guide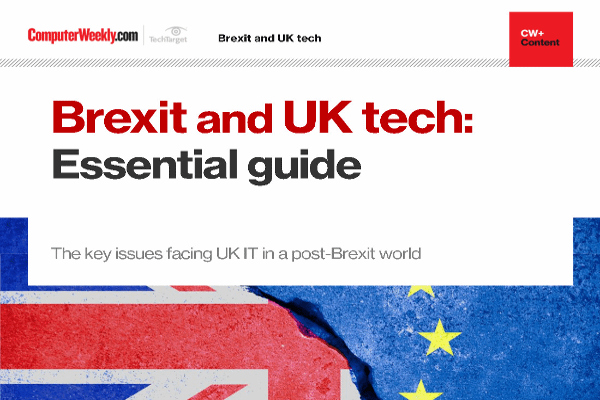 Brexit and UK tech: Essential guide
Find your way in the post-Brexit world and establish priorities in the face of uncertainty
By submitting your personal information, you agree that TechTarget and its partners may contact you regarding relevant content, products and special offers.
You also agree that your personal information may be transferred and processed in the United States, and that you have read and agree to the Terms of Use and the Privacy Policy.

Forgent Networks has announced that it holds the patent to the JPEG (Joint Photographic Experts Group) image compression technology, and intends to license it.



Forgent plans to approach browser, handheld and mobile phone manufacturers, as well as companies that make digital still cameras, printers, scanners and camcorders with a still image function.

"We have a patent for a specific algorithm or method that forms part of the process of data compression. We have been in touch with manufacturers of this type of device to talk about licensing the use of that method, and we have reached agreement with Sony and one [unnamed] consumer electronic company," a Forgent representative said.

Sony was not immediately available for comment.

Forgent said it discovered the patent when restructuring and looking into its assets. "When we realised we had it, we launched a licensing program and started to talk to manufacturers of devices where the method is used," the Forgent spokesperson said.

Håkon Lie, chief technical officer of Opera Software, said that he does not believe the patent can be enforced. "I would encourage people not to pay up if they are asked to. We have done a technical evaluation of this patent and we don't believe it applies," he said.

JPEG images are a crucial part of the Web, Lie said. "If it becomes impossible to use JPEG we will have to find other processes. We did that before, developing PNG when GIF [technology] was patented by Unisys. But that was a long process and it's hard to remove older technology so I hope we don't have to go through that again," he said.

Tom Lane, organiser of the Independent JPEG Group also said Forgent's claim has no merit. "The patent describes an encoding method that is clearly not like what JPEG does. The patent describes a three-way symbol classification; the closest analogy in JPEG is a two-way classification. If the jury can count higher than two, the case will fail."

"I'm sure [Sony] felt that making the issue go away was their least-risky alternative, and that they didn't have enough at stake to fight it. I'm hoping that someone with more commitment to the preservation of open standards will fight back," Lane said.