IBM hits both ends of storage market
IBM will soon offer low and high-end storage arrays aimed at challenging rivals such as Hitachi Data Systems and Dell Computer...
This Article Covers
RELATED TOPICS

Download this free guide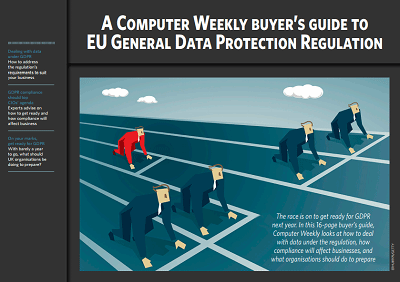 Computer Weekly's Buyer's Guide to GDPR
The race is on to get ready for GDPR next year. Computer Weekly looks at how to deal with data under the regulation, how compliance will affect businesses, and what organisations should do to prepare.

IBM will soon offer low and high-end storage arrays aimed at challenging rivals such as Hitachi Data Systems and Dell Computer with faster devices that provide lower ownership costs.



IBM's two latest versions of its high-end TotalStorage Enterprise Storage Server, is also known as Shark. The new Shark Model 800 and 800 Turbo have, respectively, two and two and a half times the performance of the current model and operate at 2Gbit/sec data transfer rates.

The Shark is available with a variety of options, including 15,000 RPM disc drives in both 18.2Gbytes and 36.4Gbytes capacities, and is powered by new copper microchips. It also has 64Gbytes of internal cache and 3.2Gbit/sec. internal bandwidth.

For grocer Royal Ahold, the Shark server "significantly increased the performance" of the company's backup and recovery process and tripled its storage capacity, said Joe Giacometti, senior vice-president of IT. Giacometti also said the new Shark reduced the cost of managing information by $50 (£32) per gigabyte.

The 800 and the 800 Turbo, which carries two additional processors, come with Project eLiza self-management features that enable real-time configuration and management capabilities.

Mike Kahn, president and chief executive officer of The Clipper Group, said that with the new Shark models IBM has caught up with the speed of Hitachi Data Systems's Freedom Storage Lightning 9900 enterprise array. "The discs get you the data faster, and these new engines allow you to move it faster," Kahn said.

The 800 will be generally available on 16 August; pricing will range from $250,000 (£158,765) to $1.5m (£950,000) depending on the capacity size and configuration. Various configurations can support RAID-10 data mirroring and striping for performance-sensitive applications, such as online transaction processing and Oracle databases.

IBM last week also announced a pizza box-sized network-attached storage (NAS) device aimed at low and mid-market users, such as local storage for distributed offices.

The TotalStorage NAS 100 array, which has a list price of $4,420 (£2,807), is the third NAS product IBM has released in the past three years. IBM has used the same software management applications in each.
Read more on Data centre hardware