Monthly products round up: June 2002
A round up of the latest new products.

Download this free guide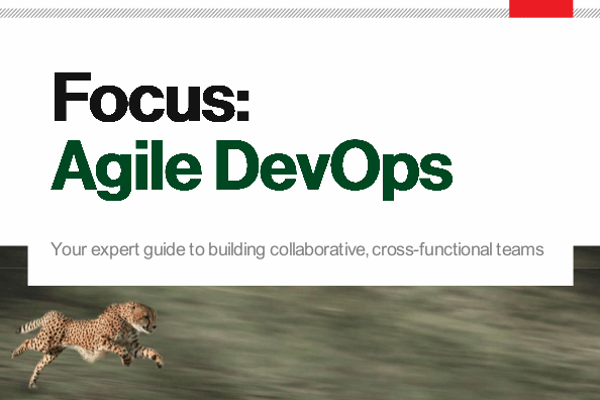 How can your business benefit from DevOps?
Let's take a look at six of the development practices that Disciplined Agile Delivery recommends for disciplined DevOps teams.
By submitting your personal information, you agree that TechTarget and its partners may contact you regarding relevant content, products and special offers.
You also agree that your personal information may be transferred and processed in the United States, and that you have read and agree to the Terms of Use and the Privacy Policy.

A round up of the latest new products.



Sun takes on Microsoft on the desktop
Last month Sun Microsystems announced the general availability of its Staroffice 6.0 software, an office productivity suite that runs across multiple platforms, including Linux, Solaris and Windows.

Staroffice 6.0 is claimed to offer customers an "economical alternative" to Microsoft Office. Sun claims users can expect to save at least 75% in licensing costs.

For enterprise customers, Staroffice 6.0 software is priced on a tiered, per-user basis, ranging from £40 to £20 (based on volume). The Staroffice 6.0 office productivity suite retail offering is priced £52.99.

Of course, Staroffice was previously offered for free, and Sun continues to support the availability of a free version of its office productivity software through a no-charge download from the open source project at www.openoffice.org/. Sun claims more than 1.8 million users at Fortune 500 companies, from industries such as financial services, retail, manufacturing, and high tech, as well as the government and education markets, are evaluating and deploying Staroffice.

Staroffice 6.0 is a full-featured office suite available in 10 languages for day-to-day tasks, such as creating documents, spreadsheets and presentations on the Linux, Solaris and Windows platforms. Sun claims users will find all the features they expect available in a familiar, easy-to-use, integrated, and configurable interface.

Through Software AG's database engine Adabas D, Staroffice software also delivers integrated database functionality on all platforms. Staroffice 6.0 also works transparently with a variety of file formats, enabling users familiar with other office suites, such as Microsoft Office, to open, modify, and share files.

StarOffice 6.0 uses an XML-based file format as its default.

www.sun.com/staroffice

Dell rolls out entry-level tape system
Dell's latest Powervault 122T tape storage system provides an entry point for small to medium-sized businesses wanting to consolidate their storage back-ups onto tape.

The 3.5-inch, rackable 122T is an eight-cartridge, single-drive system that can simplify storage back-ups for companies performing multiple tape back-ups on individual servers.

"The idea of having a tape drive in every single server, whether it is a tower, a pedestal server or a rack-mounted server, and having a person go around at night to activate the tape and run the software and then taking it off site is incredibly time consuming," said Mike Skymba, senior manager for Powervault storage systems at Dell. "Why not get one auto loader - the 122T - with up to eight cartridges and let that be your automated way of backing up?"

Based on the DLT (digital linear tape) format, the 122T offers up to 320Gbytes of storage capacity with a 3mbps data transfer rate. These figures can be doubled by using a two-to-one compression facility.

Similar to Dell's reseller agreements with Fibre Channel switch supplier Brocade Communications Systems and storage specialist EMC, Dell will sell the 122T system through Benchmark Tape Systems. The 122T joins Dell's department-class Powervault 128T and enterprise-grade 136T tape systems. Prices start at $4,150 (£2,850).
www.dell.com/

Rogue Wave to support .net
Rogue Wave Software has announced plans for its Rogue Wave Stingray Studio developers' tools to natively support the Microsoft .net framework. The company also plans to develop a new product to help ease the migration of graphical user interface (GUI) components based on Microsoft Foundation Classes (MFC) to Microsoft .net-based GUI components.

These products will help preserve existing GUI investments and allow companies to communicate and share data over the Internet, regardless of operating system, device, or programming language.

To support users' continuing reliance on MFC-based GUI components, the next release of Stingray Studio will also be compatible with Microsoft Visual C++ 7 and will support the new look and feel of Microsoft Windows XP. This release will offer Stingray Studio users the ability to upgrade their applications to Microsoft's Windows XP operating system and to the Visual C++ 7.0 compiler, providing applications with the look and feel of Windows XP.
www.roguewave.com/

Oracle adds XML to applications suite
Oracle is promising to streamline business intelligence and database management and improve the efficiency of database installations with the latest release of Oracle 9i.

XML is key, said the company. Microsoft has made XML central to its SQL Server database, and Oracle has responded by building XML support directly into the 9i database. Earlier versions of the Oracle database stored XML as "binary objects" (unstructured data), but 9i Release 2 has taken support a step further, allowing business to query the XML as structured data.

Another improvement is the of bundling support for online analytical processing and data marts - a technology previously available on the rival Microsoft SQL Sever and IBM DB/2 platforms.

Another core feature of 9i Release 2 is in back-up and recovery.

In the past, users ran back-up databases. The new features added to Oracle 9i Release 2 will allow database administrators to split workload between the main database and the back-up database and so boost performance.

Oracle is counting on the XML enhancements to 9i being particularly attractive to users. They will allow users to store XML objects within the database. Another application for XML is storing purchase orders in a structured format, so that users can see all of the individual components.
www.oracle.com/

UpShot CRM for office apps
US software supplier UpShot has integrated its online customer relationship management (CRM) offering with popular desktop applications.

UpShot Office, available in online or offline versions, integrates the UpShot CRM solution with Microsoft Word, Excel, Powerpoint and other desktop applications. The software will enable salespeople to generate quotes, proposals, and presentations about their deals and prospects.

UpShot Office gives sales teams access to UpShot data from desktop applications, with or without an Internet connection, so they can manage sales activities such as adding to or editing their accounts, contacts, leads, to-do entries, appointments and notes. They can also configure products, generate personalised proposals, quotes, contracts and presentations.

UpShot Office also features UpShot Office Connect, APIs that link sales data in UpShot with desktop applications.
www.upshot.com/

Apple targets smaller businesses with its first rack-mounted server
Apple computer is hoping to gain wider acceptance for its products with the launch of its first rack-mounted server.

Mark Rogers, Apple UK's managing director, said, "The Xserve opens up new doors for us because it is more comprehensive than any of our previous servers. It is rack-mounted, so it looks more serious - and it is."

The Xserve runs Apple's OS X operating system on dual 1GHz PowerPC G4 processors.

OS X is built on the Darwin Unix operating system, which comprises the Mach microkernel and BSD Unix. Despite this, it will network with a range of desktop operating systems "out of the box". Systems supported include Apple Macintosh, Windows, Linux and Unix, or any mixture of these.

Although the server can be used for general duties, its features have been specially designed for Apple's core graphics and video user base. Xserve supports streaming media and can be supplied with up to 480Gbytes of storage per server and, with capacity for 42 servers in a rack, this means that more than 20Tbytes of storage can be made available.

Rogers said, "Our main targets are SMEs that are looking for high-quality servers, because we think the Xserve will make them look at things in a different light. Look at the price and then compare it with Sun or Windows/Intel servers."

The single-processor tray with unlimited clients costs £2,212, it has 256Mbytes of DDR Ram, a 60Gbyte disc, dual Gigabyte Ethernet, and CD-Rom. A similarly configured dual-processor version with 512Mbytes of DDR Ram costs £2,978. Prices exclude VAT.
www.apple.com/

Sun One compiler gets an overhaul
Sun Microsystems has started shipping its Sun One (Open Net Environment) Studio 7, Compiler Collection, which is optimised for the new Solaris 9 operating environment and Web services. The compilers support the C, C++ and Fortran languages and feature a new licensing scheme.

Built for the Sparc hardware architecture and equipped with command-line Unix interfaces, the compilers offer a 22% performance increase over previous versions. Support for multiple languages backs up Sun's claims of being committed to multi-language support in Web services architectures.

The command-line functionality comes in response to developers who said they did not need a more costly graphical, interactive development environment, said Peter Young, Sun's vice-president and general manager of Sun One Studio Tools.

The compiler collection costs $995 (£680), while an IDE featuring the compilers is due next month for approximately $2,000 (£1,370).

To enable Web services support, the compilers support Sun's "native connector architecture", in which Solaris binaries can be wrapped in Java code and exposed as Enterprise Java Beans for deployment as Web services.

With the compilers, Sun is replacing its "node block licensing" format, which would have prevented the deployment of the product for more developers than were licensed. The new scheme uses software serial numbers to determine when licensing limits are being exceeded and notifies the user but does not block out additional developers.

An interactive debugger in the package improves application quality and has features such as Runtime Error Checking to assist developers in locating hard-to-find bugs during the development cycle.

The compilers are part of the Sun One Web services platform. Other features include a choice of binary-compatible default or STLport standard library with C++. STLport is a common standard template library now natively supported in the compilers; OpenMP C++ v1.0 API support, for writing highly parallel C++ applications without having to write explicit threading calls; and OpenMP Fortran 2.0 API support, for use of Fortran 90 array syntax.
www.sun.com/

New security management
Check Point Software has announced two new management products. Smartcentre and Smartcentre Pro are centralised firewall and virtual private network management consoles designed to give users a single location from which to manage Check Point products, security policies and Open Platform for Security-compliant offerings.

Smartcentre has a management console and policy management features, whereas Smartcentre Pro offers those capabilities along with LDap access to user information and the ability to automatically download and remotely install software updates and patches.
www.checkpoint.com/
Read more on Operating systems software