N+I: Cisco drills into content networking
Cisco Systems has unveiled equipment designed to boost the reliability and availability of content-based network services at this...

Download this free guide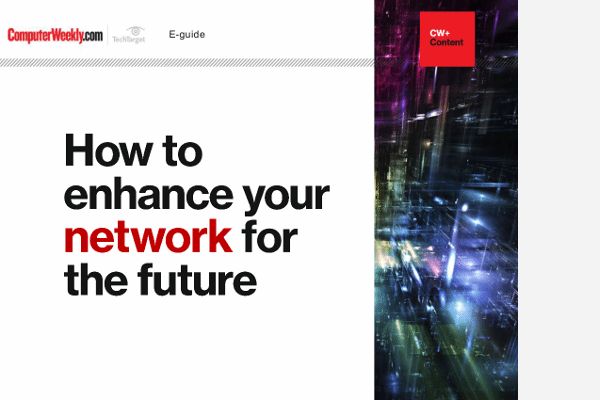 How to enhance your network for the future
Latest on networking developments and directions: NFV, self-optimising networks and IoT enabled smart cities
By submitting your email address, you agree to receive emails regarding relevant topic offers from TechTarget and its partners. You can withdraw your consent at any time. Contact TechTarget at 275 Grove Street, Newton, MA.
You also agree that your personal information may be transferred and processed in the United States, and that you have read and agree to the Terms of Use and the Privacy Policy.

Cisco Systems has unveiled equipment designed to boost the reliability and availability of content-based network services at this year's Networld+Interop show in Las Vegas.



The company rolled out the Content Services Switch 11503 and 11506 modular content-switching platforms. The Switches, which are based on a new distributed processing architecture, feature improved performance, rules-based user session recovery, and integrated SSL (Secure Sockets Layer) acceleration.

The modular architecture is designed to allow enterprises to start small and grow as performance and scalability requirements rise, according to Mark Leary, solution manager for content networking at Cisco.

Cisco also introduced a new version of its Content Transformation Engine designed to shape content for delivery to wired and wireless end-user devices, including Cisco IP phones, RIM devices, and WAP (Wireless Application Protocol) phones. CTE 1400 Release 2 also features JavaScript support, Web-based network administration, and enhanced performance monitoring, according to Cisco officials.

The company has bolstering its enterprise CDN (content delivery network) offerings with Version 4.1 of its ACNS (Application and Content Networking System) software, which integrates caching and content delivery into a single system.

Aimed at eLearning, employee communications, and content acceleration, ACNS 4.1 enhancements include native streaming support for Microsoft WMT and RealNetworks caching, splitting, and multicast sourcing capabilities.

Cisco also updated its IP/TV offering, which uses multicast technology to deliver high-quality streaming to desktops and meeting rooms. Version 3.4 features support for MPEG-4, scalability to as many as 10,000 user desktops, and enhanced video-on-demand capabilities.

Version 4.1 of the Cisco Hosting Solution Engine (HSE) allows multiple administrators to manage content services across the shared network infrastructure. HSE 4.1 improves the visibility into networking devices beyond the datacentre into the network edge.