Win an award for your e-business achievement
The UK's biggest e-business awards, the Computer Weekly E-Business Excellence Awards, are once again open for business. Could you...
This Article Covers
RELATED TOPICS

Download this free guide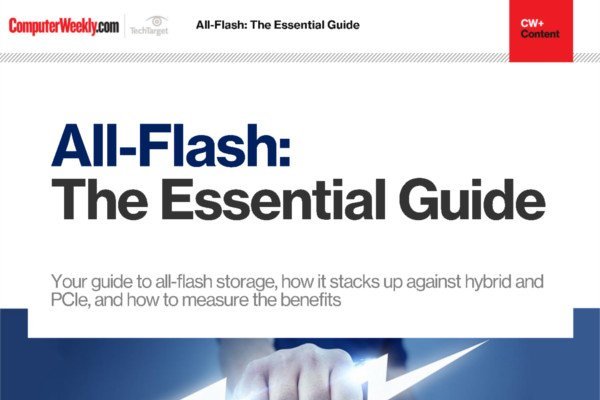 All-Flash: The Essential Guide
Access this guide to learn about all-flash storage, how it stacks up against hybrid and PCIe, and how to measure the benefits.
By submitting your personal information, you agree that TechTarget and its partners may contact you regarding relevant content, products and special offers.
You also agree that your personal information may be transferred and processed in the United States, and that you have read and agree to the Terms of Use and the Privacy Policy.

The UK's biggest e-business awards, the Computer Weekly E-Business Excellence Awards, are once again open for business. Could you be a winner?



It's awards time again. Time for the UK's best examples of e-business in action to step into the limelight and receive the recognition they deserve. The Computer Weekly E-Business Excellence Awards, launched last year, have already become established as the UK's top awards for e-business achievement. In the current climate of dotcom despair they offer a much-needed riposte to the view that e-business is all hype and no reality.

Despite its recent fall from favour, e-business - using IT and Internet-based technology to transform existing business processes or enable new ones - is still one of the biggest challenges facing UK companies. When implemented well it enables established companies to slash costs, boost performance and move into new markets. And it is spawning new e-businesses, unencumbered by history, which are rewriting the rules and challenging existing giants in some markets.

Yet, in many UK boardrooms the benefits of e-business are poorly understood. The technology is often presented in language business leaders don't understand, and view with suspicion because of past failures.

The awards demonstrate how UK companies are using IT to deliver real business benefits and gain a competitive edge. They are a showcase of the best examples of e-business in action, judged on clear, business criteria by an expert panel of judges.

Cutting through the technology and jargon, they demonstrate the business benefits that e-business can deliver, in a language that business understands.

The awards ceremony, to be held at a top London venue, takes place in November during E-Business Expo, the UK's largest gathering of industry suppliers and users, at Earls Court.

So if your organisation uses e-business technology and processes to deliver business benefits, register now for an entry form.

The award categories


UK E-Business Gold Award
The winner of winners. The entry judged to be the best overall example of e-business. Sponsored by BT
E-Commerce Award
The best use of e-business technology to sell products or services to customers
Supply Chain Management and E-Procurement Award
The best application of e-business technology to the supply chain. Sponsored by TomorrowFirst
E-Business Marketing Award
The best use of e-business technology to market products or services
SME E-Business Award
The best example of e-business in established companies with fewer than 500 employees (not open to dotcom e-business start-ups)
E-Business Start-up Award
The best example of an organisation set up from the outset as an e-business since 1 January 2000
Mobile E-Business Award
The best use of mobile computing and communications to deliver an e-business solution
Knowledge Management Award
The best example of the use of e-business technology to share information and allow collaborative working
E-CRM Award
The best use of new technology to improve customer support and interaction and deliver a better customer experience
Recruitment, Training and HR Award
The best e-business initiative applied to the recruitment and/or training of staff
E-Government award
The best example of e-business in the public sector
E-Business Design Award
The best use of content design to deliver an e-business solution
Secure e-business Award
The entry from any of the above categories judged to display the most impressive security set-up

Firms can enter their e-business projects in more than one category if they wish. For example, a public sector project that makes significant use of mobile computing technology could enter both the E-Government and Mobile
E-business categories.

The judging panel

We have put together the most experienced panel of judges yet assembled to select the award winners. They combine business and IT expertise with category-specific know-how.


Computer Weekly the UK's top IT publication and the world's first IT weekly
Cranfield School of Management one of the world's leading university business schools, renowned for its strong links with industry and business
The National Computing Centre an independent membership and research organisation promoting the more effective use of IT
E-centre UK an independent user group, promoting best practice advice in the field of business-to-business e-commerce
EEMA (The European forum for e-business) Europe's premier industry association
Sitpro the Simpler Trade Procedures Board, the UK trade facilitation agency
The Chartered Institute of Marketing the world's largest professional body for marketing, providing access to quality education and training
The Design Council the top national authority on design, working with partners in business, education and government
The Federation of Small Businesses leading lobby group for small firms
Socitm (The Society of Information Technology Management) committed to promoting the effective and efficient use of IT in local government and the public sector
Personnel Today The UK's only weekly news magazine for human resources and training professionals


eTailForum the e-commerce decision-support organisation for major global companies.
Read more on Data centre hardware