Conquering heroes
On 20-21 May, 32 IT teams set out on the Vanco Three Peaks Challenge. Antony Adshead gives a first-hand account of Computer...
This Article Covers
RELATED TOPICS
On 20-21 May, 32 IT teams set out on the Vanco Three Peaks Challenge. Antony Adshead gives a first-hand account of Computer Weekly's assault on the summits
The start point resembled a minibus-drivers' convention. Getting geared up silently was followed by an agonising wait, locked into the van to keep the midges out. Our time came to run through the safety briefings, pick up the walkie-talkies and on up to the start point at 6.35pm on the Saturday. "The first hour is going to be hell," I warned the team. "Then when your lungs and legs have got moving things'll improve." And hellish it was. Sweat began to pour as we headed up the gentle-ish starting slopes of the Ben. Quick stop, strip down, carry on, up round the hillside, reaching the halfway loch.

Download this free guide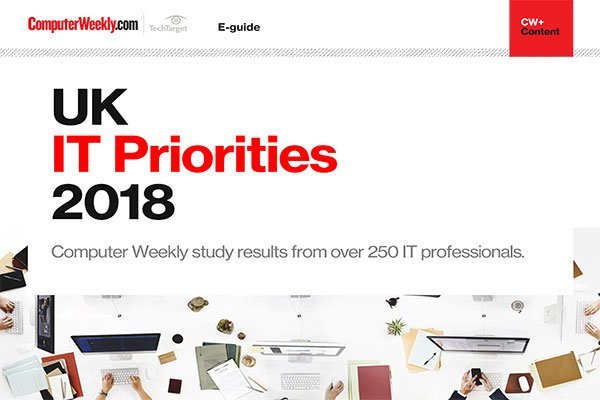 UK IT Priorities 2018 survey results
Download this e-guide to discover the results of our 2018 UK IT Priorities survey, where IT leaders shared with us what they are going to be investing in over the coming 12 months.
By submitting your personal information, you agree that TechTarget and its partners may contact you regarding relevant content, products and special offers.
You also agree that your personal information may be transferred and processed in the United States, and that you have read and agree to the Terms of Use and the Privacy Policy.
By now we'd settled into a rhythm and the walkie-talkie traffic was beginning to amuse. Already there were casualties, people returning to base with sore feet and fatigue.
We were getting higher and it was getting later. Nine o'clock came and went - descending teams told us of the snow at the top. It got darker. We reached the snow line and donned our hats and gloves. There was more snow as we trudged the final plateau, and the wind grew harsher. Conditions got near whiteout - the difference between ground and sky was about a quarter shade of the whitish-grey all around us, with a 2,000 foot drop just ten yards away. And then it was there - a pinnacle of rocks with a concrete triangulation point on top. We were up, and weary faces turned to joy as we took photos, dialled mobiles and wondered what we would normally be doing at 11pm on a Saturday night. And then the descent. It was going to be good to be going back down and get out of the cold and cloud. Or was it?
An hour later and the strains of descent were beginning to tell. Roisin, one of our team members, described it as like having your ankles twisted round and round. The strain on the knees and ankles was immense, but at least the heart wasn't pounding as fiercely as it had been on the ascent.
Finally we're down, and it's into the minibus, boots off, and a little slug of whisky from the flask. Now the next problem - getting to sleep. Not only is it intensely uncomfortable trying to sleep in the seat-belted front seat of the bus, but the driver wants to talk. He wants to talk a lot because he's wired on energy drinks. Eventually I drop off and when my eyes open again it's dawn in the Scottish Borders. The next thing I know we're pulling into a motorway service station and the instructions for Scafell Pike are dispensed along with warnings of bad weather.
The three peaks literature says that Scafell Pike is the low point, where participants ask: Why am I doing this? In fact it's the wrong question. We knew why we were doing it - the big question was how we were going to do it.
So we started. The weather was sunny and I began to steam with the heat my body generated. Loading up on energy bars and bananas - by this time our baguettes had the consistency of firewood - we battled on to the top. And it was an impressive mountain, with plenty of rock-hopping needed to reach the pyramid-like summit. Then back down.
It was here we realised that cumulative failure to travel quickly enough on foot or by road meant we could not actually complete in 24 hours - so we resolved simply to finish. I awoke from a seatbelt-suspended sleep to find the sun shining. The North Wales coastline took on a Pacific Coast Highway look to a tired mind.
Then the mountains came into view. "Why do they have to be so bloody big?" said someone, and the size of the task ahead dawned. But hey, we were nearly there - only one more mountain to climb.
We were to go up via the tourist path from Llanberis, a track that is gravel-smooth most of the way, so we got off to a good start. We could see the fearsome cliffs below the summit ahead, shrouded in cloud. The final ascent was by a very steep path, so smooth it was deceptive in its difficulty. The group slowed to a snail's pace, and resolve dipped. Calls went out to keep together as some lagged behind. A last ten minutes brought us into the full force of the winds rushing in from the Irish Sea. We scrambled up to the trig point at the summit and the clouds parted to reveal a golden sun reflecting off the Menai Straits. Final photos were taken and grins of achievement were grinned. We'd done it! As we walked down via the railway line the cloud completely shifted and the views were divinely green and gold. "You can just imagine the credits rolling now," said Tim, another team member. And you could - in widescreen, of course
We finished at 9.56pm on Sunday, 27 hours 21 minutes after starting. The last two miles had been a carnival of funny walks and we were truly exhausted, but we stayed up for beers at the end-of-challenge party. It didn't sink in at that point, but as the pain receded on the way home we were able to appreciate our achievement and the good company we had been for each other.
Postscript: Two days later, back at work. My teammate James came by my desk. "I know it was painful, but I want to be back there," he said. I felt the same.
Factbox
Vanco Three Peaks Challenge
20/21 May 2000
Fastest time: 22h12m
Slowest: 29h29m
32 teams out of 32 completed
Total raised for Children's Aid Direct: £160,000
Most money raised: £17,000 (by two Aqualisa teams)

Ups and downs

Team: CSTIM (financial services)
Team leader: Martin Cuff, management consultant, 32

What was the best part? Finishing the bloody thing! Although the weather on Scafell Pike was amazing - the sun and the views for miles.

And the worst? One hour's sleep in 40. And one of our guys wore tweeds and cords so of course he overheated within one hour of starting. Another team member became dehydrated so drank a lot of water, all two litres of which came back up during the minibus journey. Oh, and the bloody midges.

Team: Vanco (network suppliers)
Team leader: Andy Cushing, group marketing manager, 26

What was the best part? Being on top of Ben Nevis in the snow and mist and thinking, what would I usually be doing at this time on Saturday night?

And the worst? After the first mountain it just gets worse and worse. And two of our people got "stomach upsets". Being caught short up a mountain is no fun.

Team: Sanwa International PLC (investment bank)
Team leader: Joe Saunders, senior vice-president, 42

What was the best part? The view from Snowdon. We had glorious views as the sun set over the sea.

And the worst? Realising we would not achieve it in 24 hours. And in the slog up Snowdon we really "hit a wall" of fatigue.

The challenge:

Hike up and down Ben Nevis (4,406ft), Scafell Pike (3,210ft) and Snowdon (3,560ft) in 24 hours

Walked: 24 miles

Ascended: 2 miles

Driven: 450 miles

Total distance:

Hike up and down Ben Nevis (4,406ft), Scafell Pike (3,210ft) and Snowdon (3,560ft) in 24 hours

Walked: 24 miles

Ascended: 2 miles

Driven: 450 miles
Read more on Data centre hardware