Will ISIS save the police £200m a year?
Policing in the UK is not the only part of the public sector facing budget cuts, but it is one of the few relying on a big IT project as a cost-cutter.
While...
Policing in the UK is not the only part of the public sector facing budget cuts, but it is one of the few relying on a big IT project as a cost-cutter.

Download this free guide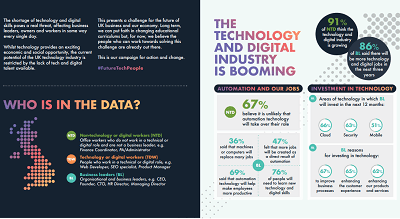 Infographic: Future-proofing UK technology
The current potential of the UK technology industry is restricted by the lack of tech and digital talent available. Read through this challenge for the future of UK business and our economy.
By submitting your personal information, you agree that TechTarget and its partners may contact you regarding relevant content, products and special offers.
You also agree that your personal information may be transferred and processed in the United States, and that you have read and agree to the Terms of Use and the Privacy Policy.
While the government instructs most departments and agencies to cut and re-negotiate IT projects, the Ministry of Justice is pinning its hopes on the Information Systems Improvement Strategy (ISIS) to reduce bureaucracy and save money.
Deputy chief executive at the National Police Improvement Agency (NPIA) Nick Gargan says the agency wants ISIS to save £200m a year by 2013-14 by improving procurement and systems and cutting IT jobs. He says he expects the police budget to shrink from £14bn to £13bn overall. IT currently uses £1.4bn of that budget, which, Gargan says, is too expensive.
The strategy aims to create a single national infrastructure for the police service, making it easier to share information and reducing bureaucracy.
A set of national standards for IT systems will be introduced to make sure each force has IT compatible with others around the country.
There is also an initiative to develop the use of mobile technology, and to enable better information sharing with the new Police National Database, which could replace dozens of separate intelligence systems.
Jan Berry is the independent reducing bureaucracy advocate appointed by the Home Office to review police bureaucracy.
Jan Berry said at the recent Modernising Justice Through IT conference that the importance of ISIS cannot be overstated. Berry recommended the home secretary makes the programme mandatory.
"The government can't sanction forces who decide not to do it," she said. "Forces must introduce compatible operating systems and the government has got to set a challenging timetable with milestones for compatibility."
The criminal justice system has historically approached IT in a fragmented way. The courts have the Libra system, the prison and probation services have C-Nomis, and the police have ISIS. These systems need to become seamless, Berry said, with a single username and password to sign on to all of them, the ability to search across different systems and the need to only enter information once. The overall aim is to have an IT infrastructure that links the system from arrest to rehabilitation.
The challenges for this project will invariably be political, Berry said. Forces are used to operational independence and there are worries that vested interests might prevent chief officers from fully supporting the ideas behind ISIS.
She said: "We can't afford for ISIS to fail, and if one police force doesn't link into it, it will fail. I don't think there's justification for 43 different back-office systems.
"Police officers are using their time to conduct repetitive pieces of work which, with today's technology, could and should be dealt with in a different way."