Global spam levels have dropped by a third since a Microsoft-led operation took down the Rustock botnet, according to IT services firm Symantec.
Symantec's MessageLabs Intelligence division says that after the takedown of Rustock, spam dropped to around 33 billion e-mails a day, compared with an average of 52 billion e-mails a day the week before.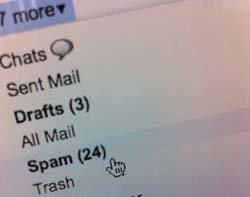 Rustock is one of the most technically sophisticated botnets in recent years and has been a significant player in the botnet world since January 2006.
Rustock has lasted much longer than many of its contemporaries, says Paul Wood, senior analyst at MessageLabs Intelligence.
But it remains to be seen if the criminals behind Rustock will be able to recover from the coordinated effort against it, he says.
According to MessageLabs Intelligence, Bagle has now taken over from Rustock as the most active spam-sending botnet in 2011, sending 8.31 billion spam emails a day.
In March, 83.1% of global spam was sent from botnets, up from 77% at the end of 2010. During 2010, botnets sent an average of 88.2% of global spam.
Botnets have been and remain a destructive resource for cyber criminals, says Wood.
While botnets are essential to spamming operations, they are also used for other purposes such as distributed denial of service attacks, hosting illegal website content on infected computers, harvesting personal data from them and installing spyware to track the activities of their users.
Email Alerts
Register now to receive ComputerWeekly.com IT-related news, guides and more, delivered to your inbox.
By submitting you agree to receive email from TechTarget and its partners. If you reside outside of the United States, you consent to having your personal data transferred to and processed in the United States.
Privacy