Industry welcomes technology hubs
The Science and Technology Committee has welcomed the government's commitment to invest £200m in new technology hubs,
The Science and Technology Committee has welcomed the government's commitment to invest £200m in new technology hubs, it said in a select committee report.

Download this free guide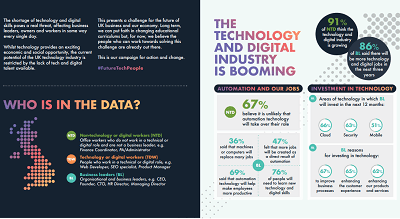 Infographic: Future-proofing UK technology
The shortage of technology and digital skills poses a real threat, affecting business leaders, owners and workers in some way every single day. Whilst technology provides an exciting economic and social opportunity, the current potential of the UK technology industry is restricted by the lack of tech and digital talent available. This presents a challenge for the future of UK business and our economy. Long term, we can put faith in changing educational curriculum but, for now, we believe the people who can work towards solving this challenge are already out there.
By submitting your personal information, you agree that TechTarget and its partners may contact you regarding relevant content, products and special offers.
You also agree that your personal information may be transferred and processed in the United States, and that you have read and agree to the Terms of Use and the Privacy Policy.
David Cameron pledged the investment in October last year to encourage innovative UK companies to emulate the success of Silicon Valley.
The STC also recommended that the Technology and Innovation Centres (TICs) be named Turing Centres, after the British mathematician who became the founder of modern computer science, Alan Turing (pictured).
Andrew Miller MP, chair of the Committee, said it will be important small companies get involved to strengthen their financial bases and improve their commercial prospects.
"There is an imbalance in public funding between research and innovation. It is important that the limited funds for innovation are not monopolised by the TICs. Funding for innovation must be available to those outside the new centres, as their work may be the basis of the TICs of the future," he added.
The centres will be equally funded by the government, joint public-private sector funding, such as EU funding competitions, and private sector contracts from business.
The STC said it welcomed the plans to start with six to eight centres across the UK, with a view to widening the network of centres in the future.
Tim Bradshaw, CBI Head of enterprise and innovation, said, "It's important to concentrate resources and funding on a limited number of technology and innovation centres, so as not to overstretch the £200m budget. The Technology Strategy Board should consider the lower number of six centres, ensuring each has the critical mass to be effective.
Bradshaw said the CBI supported the call for long-term funding for Technology and Innovation Centres, but the one-third cap on funding from the private sector is too rigid. "Opening up the possibility of more funding from the private sector, to constitute 25-55% of the total, will drive greater innovation and growth," he added.