Suppliers could lose £3.7bn in schools IT cutbacks
The government's decision to cut the Building Schools for the Future (BSF) programme could cost IT suppliers about £3.7bn in lost business, according to research.
The government's decision to cut the Building Schools for the Future (BSF) programme could cost IT suppliers about £3.7bn in lost business, according to research.

Download this free guide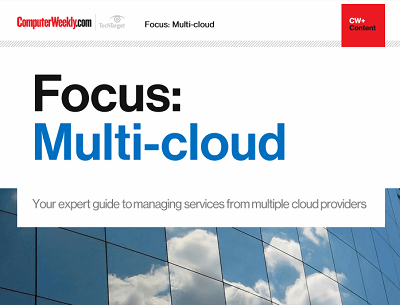 The maturity of the enterprise public cloud
Many IT leaders are increasingly coming round to the idea that sourcing services from one or more providers might be the best way to go. Join us as Computer Weekly takes a closer look at the multi-cloud approach and what providers are doing to capitalise on the trend.
By submitting your personal information, you agree that TechTarget and its partners may contact you regarding relevant content, products and special offers.
You also agree that your personal information may be transferred and processed in the United States, and that you have read and agree to the Terms of Use and the Privacy Policy.
Around 10% of the £45bn BSF budget was set aside for IT, but a review of the scheme announced last week may have dire consequences for incumbent suppliers, with RM, Northgate and Redstone expected to be the biggest losers.
IT suppliers can expect to receive just £800m of the revised pot of money for BSF funding, according to Tola Sargeant, research director at analyst TechMarketView (TMV).
"Clearly this is a huge loss of opportunity in terms of potential revenues over the next 10 years," she said.
TMV made its calculation by estimating the number of schools involved and the total contract value.
Some projects will go ahead after the government's review, but teachers' salaries will take priority as budgets are squeezed and discretionary spending on IT will be severely limited as the post-BSF market becomes more fragmented.
Even school projects that had reached financial contracts and were said by education secretary Michael Gove to be home and dry could yet be stopped or scaled back, said Sargeant.
"Software and IT services suppliers are set to lose an average of between 37% and 44% of the total value of the BSF contracts they have signed, or been awarded preferred bidder status on, to date."
The 37% figure considers school projects that have been classified as "stopped" and the 44% worst-case estimate assumes all schools and academies in the "for discussion" category will be shelved, which Sargeant admitted was unlikely.
Another concern is TMV's warning that suppliers could lose revenue on contracts that were penned several years ago where IT may have been delivered in parts of a region but where others may be cut back.
"Unless the contract was profitable on a per-school basis, this could have worrying consequences for suppliers' profit margins, particularly given the high bidding costs and reportedly thin margins on BSF deals," said Sargeant.
RM is the biggest BSF IT supplier by far, winning 21 contracts with seven at preferred bidder stage, worth an estimated total of £586m. But after the government's decision, RM could lose out on up to £306m of deals, according to TMV.
Northgate and Redstone, which had a base worth £205m and £191m, may lose up to £117m and £109m, respectively.
Capita, which has acquired numerous BSF firms, may see its contract value fall £79m from £217m, while Civica may lose out on £33m on the back of projects worth £117m.
Read more on IT outsourcing