Wi-Fi operator may quit UK over wireless tax
Valuation Office plans...
Valuation Office plans to tax Wi-Fi and Wi-Max networks could lead to at least one Wi-Fi network operator closing down and leaving the country.
Freerunner, which said it would provide free Wi-Fi to 46 deserving communities, told Computer Weekly that it was prepared to meet the VOA to explain the issues faced by Wi-Fi operators, especially in areas of low-density population.

Download this free guide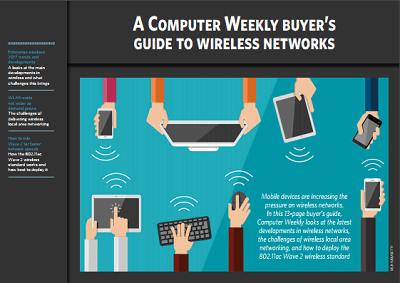 Carrying the heavy wireless burden of mobile devices
Mobile devices are increasing the pressure on wireless networks. In this buyer's guide, Computer Weekly looks at the latest developments in wireless networks, the challenges of wireless local area networking, and how to deploy the 802.11ac Wave 2 wireless standard.
By submitting your personal information, you agree that TechTarget and its partners may contact you regarding relevant content, products and special offers.
You also agree that your personal information may be transferred and processed in the United States, and that you have read and agree to the Terms of Use and the Privacy Policy.
Freerunner CEO Owen Geddes said reported proposals to levy a tax of £100/year per Wi-Fi antenna would ensure that many rural communities would never get wireless broadband.
He said he had spoken to the VOA after reading a Computer Weekly article highlighting the proposals. He said that he understood from the conversation that the VOA was not clear about how the industry operated, how it made money, or how much money it made.
He said there was a time when hotels and others ran Wi-Fi networks and made a good profit from them. "But the trend now is to provide free Wi-Fi access," he said.
Geddes said taxing a free service would be "crazy". If it came in, Freerunner would be unable to carry the cost and would likely close down and shift operations to Europe, where there is no business rates tax on telecommunications, he said.
He said that, if anything, the number of Wi-Fi hotspots is dropping. But BT said recently it had installed more than 500,000 antennae to create its Open Zone service.
However a plan to provide free city-wide Wi-Fi access to the internet in Norwich foundered when the council ran out of money.
Read more on Wireless networking