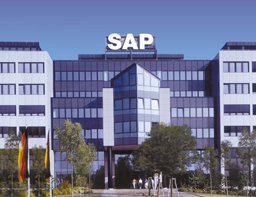 In this SAP supplier profile you will find a special nine page report from Computer Weekly analysing the challenges facing SAP, along with figures about its financial performance, the services it offers, its place in the market and what the future may hold for the supplier.
You will also find up to date news and tips on SAP in addition to further SAP resources and whitepapers from TechTarget's research library.
Overview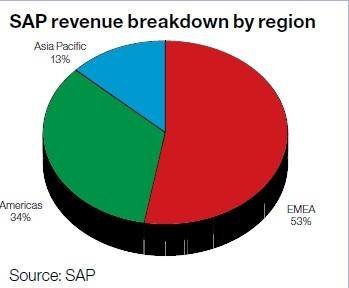 German business software firm SAP was founded in 1972 by five ex-IBM employees. From the outset, the company had a vision to create business software that would help companies to run their operations more efficiently. SAP saw its fortunes take off with the mass adoption firstly of mainframe computing, then client-server, and more recently web-based computing.
It managed to attract big-name companies early on, particularly to its ERP suites SAP R/2 and R/3, and quickly expanded its user base beyond Germany. Its users have included the likes of Coca-Cola and Cadbury Schweppes, but leading companies in all industries use, or have used SAP's software as part of their operations.
Over time, SAP has expanded beyond ERP into CRM, SCM, HR and finance, and many other niche areas of enterprise and industry specific operations.
The company has faced criticism over software usability, the lengthy time and cost of implementations, software management complexity, and customer relations. However, it is currently raising its game in these areas by overhauling user interfaces, introducing mobile and web-based application deployment, and working closely with its user groups. SAP has grown to become Europe's biggest software firm, and one of the top enterprise technology firms, competing against other giants such as IBM, Oracle, Microsoft and HP.
In Q2 2010, it announced its landmark 100,000th customer, with revenues exceeding €3bn in Q3 2010.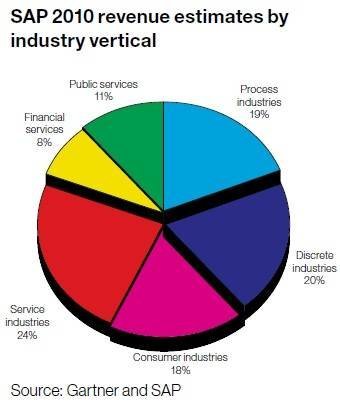 This special nine-page report from Computer Weekly analyses the challenges facing SAP, its financial performance, the services it offers, its place in the IT market and its future strategy.
Packed with graphs and diagrams, the report is essential reading for any organisation already working with, or thinking of working with, SAP.
See all research from ComputerWeekly.com
Key Facts about SAP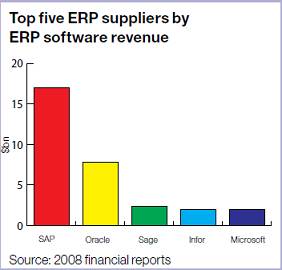 • 2009 full-year Non-GAAP revenues - €10.7bn, with €2.9bn operating income.
• Specialisms: ERP, BI, CRM, SCM
• Employees: 52,921 employees in 50 countries, including more than 800 UK-based staff.
• Customers: 100,000 in 120 countries.
• History: founded in 1972 by five former IBM employees, SAP is headquartered in Walldorf, Germany, and has grown to become Europe's largest software firm, and a world leader in enterprise applications and support.
SAP (UK) Limited
Clockhouse Place
Bedfont Road
Feltham
Middlesex
TW14 8HD
Tel: +44 (0) 870 608 4000
Fax: +44 (0) 870 608 4050
SAP products and product families
• SAP Business Suite
Core applications: SAP CRM, SAP ERP, SAP, PLM, SAP SCM & SAP SRM
Also includes: SAP solutions for sustainability, Duet, Alloy, SAP xApps Composite Applications SAP xApp Analytics, SAP xApps for Mobile Business

• Business Solutions
SAP BusinessObjects BI platform
SAP BusinessObjects GRC solutions
SAP BusinessObjects EPM solutions
Service and Asset Management

• SAP solutions for SMBs
SAP Business All-in-One
SAP Business By Design
SAP Business One
SAP BusinessObjects portfolio
SAP Crystal solutions
Key executives at SAP
Key executives
• Co-CEO officer Bill McDermott (right)
• Co-CEO Jim Hagemann Snabe
• CFO Werner Brandt
• Chief HR officer, labour relations director Angelika Dammann
• COO Gerhard Oswald
• CTO Vishal Sikka
UK executives
Tim Noble, managing director, SAP UK & Ireland
Noble joined the company in June 2009 before which he was senior VP and executive officer at Gartner, where he worked for 15 years. His primary focus is to drive SAP's business strategy, and execute growth plans.
Teri Ellison, human resources director
Ellison joined SAP in April 2008 as HR director for the UK and Ireland. She is responsible for attracting, retaining and developing more than 800 employees.
Peter Heffner, strategic account director
As a director of the UKI executive board, Heffner is responsible for ensuring consistent value management and service delivery to SAP's largest and most strategic UK and Ireland customers. Frederic Arrouays, chief financial officer Arrouays is responsible for the organisation's finance and admin activities, and joined from BusinessObjects.
Guy Armstrong, director of services
Armstrong is responsible for services and support and joined SAP in 2005 from Gartner's Benchmarking & Consulting Practices.
Carolyn Horne, chief operating officer
As COO, Horne is responsible for providing the sales support infrastructure to drive sales and operational excellence. She has more than 17 years' experience in the software industry.
Key UK customers
• Amerada Hess – e-procurement
• Anglian Water – e-procurement
• B&Q – Financials
• Bank of Ireland – e-procurement, financials, HR
• British American Tobacco integrated global IT & financials
• British Gas Hydrocarbon Resources – SCM
• British Waterways – Netweaver
• Cadburys Schweppes – Human Resources
• Diageo – BI, Netweaver middleware
• Finnforest – Supply Chain Management
• Glanbia – gain accurate business and customer view
• Hewlett-Packard – Supply Chain Management
• Homebase – Business Intelligence
• ICI – Financials
• Kent Police – SAP ERP for back office processes
• Kimberly-Clark – Supply Chain Management
• London Borough of Southwark – BI, Netweaver

• Microsoft – Supply Chain Management
• Miller Brands UK – ERP implementation
• Oxford University Press – BI, SCM
• Rexam – Netweaver middleware
• Rolls Royce – Business Intelligence
• Royal & SunAlliance – compliance and streamlining data
• Royal Mail Group – Financials
• Ryanair – Financials
• The Body Shop – global retail business processes, Netweaver
• The Electricity Supply Board – BI, financials
• The Royal SunAlliance – Business
• Intelligence
• The University of Newcastle Upon Tyne – Netweaver
• Time Out – SAP Business One
• University of Stirling – Human Resources
• University of Westminster – Human Resources
• Vision Express – Supply Chain Management
• Yorkshire Water – BI, HR, financials, e-procurement
Read SAP case studies
SAP videos from the TechTarget video library
SAP headcount by region and SAP 2010 revenue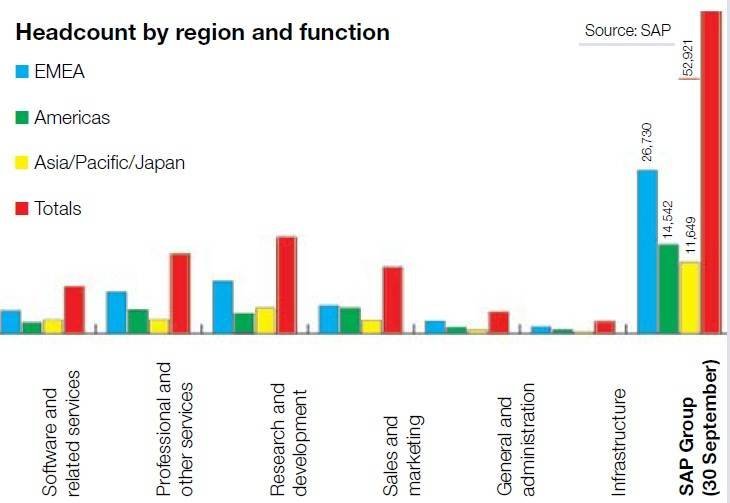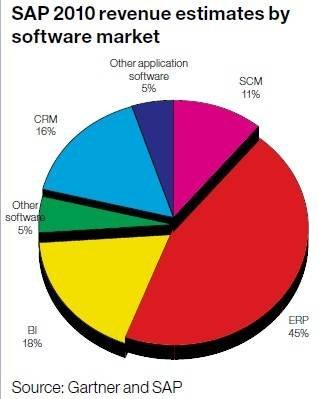 Latest announcements from SAP