UK IT industry: 'We have a bright future'
Users, consultants and suppliers gather to debate whether IT is an industry with untapped potential which is still in its...
Users, consultants and suppliers gather to debate whether IT is an industry with untapped potential which is still in its infancy, or if it has already run out of momentum

Corporate IT users are spending more than ever before. The UK IT industry has a strong future, and IT is on the brink of transforming many traditional industries.

That was the message from a debate on the future of the industry organised jointly by the Real Time Club, the Institute for the Management of Information Systems and Computer Weekly.

Users, suppliers and consultants from all areas of IT tack-led the motion, "This house believes the UK IT industry has passed from adolescence to senility without passing through maturity."

It was defeated by 51 to 14 votes, with three abstentions, reflecting a renewed confidence in the future of IT.

For the motion

Richard Holway, Director of Ovum Holway

"Although the IT industry is in decline, that does not mean IT does not matter, as Nicholas Carr headlined his now famous article in the Harvard Business review in May," said Holway.

"IT is crucial to every person and every business. We expect more and more from IT but we are prepared to spend less and less."

Holway said the period from the mid-1960s to 2000 saw three major growth spurts for IT, through third-generation computers, PCs and networking technologies.

In the process, the UK IT industry's share of gross domestic product rose from less than 1% to 4%. That figure, however, will decline to 3.5% by 2005 and to 2.5% by 2020, he said.

Railways, airlines and telecoms have all followed a similar pattern. For example, the automobile industry peaked at 4% of GDP in the mid-1960s and is now below that figure.

"I could find no sector which had ever grown to be more than 4% of GDP before it entered maturity and eventual decline," Holway said.

He stressed that maturity does not mean there will be no innovation in IT over the next few decades, but said innovation would be "evolutionary, not revolutionary".



Philip Virgo

Strategic adviser to the Institute for the Management of Information Systems

"The UK is awash with jokes about failed computer systems and our professionals remain in a state of suspended adolescence. At the same time, the IT industry has moved to India and the Far East where the locals understand about meeting customer needs," said Virgo.

"The UK IT industry has gone the way of shipbuilding and engineering. IT now comprises a clutch of small to medium-sized software and service companies."

He pointed to the huge take-up of IT in the Far East, particularly broadband, which, at up to 20mbps bandwidth is transforming Asian skills and businesses.

"The UK pootles about with a painfully slow 0.5mbps internet access," he said. "Our industry needs a healthy dose of intellectual and economic Viagra."

Against the motion

Charles Ross

Venture capitalist and former chairman of the Real Time Club

"The IT revolution is in its infancy and we cannot over estimate its significance," said Ross.

"While steam power supplemented our muscles to enable the industrial revolution, computing power supplements our brains to make the information revolution possible.

"Maturity is all about accepting that we cannot achieve everything and accepting second best. It is about compromising our standards and trimming our ambition. I want none of it. Give me the energy, enthusiasm, optimism and naivete of adolescence."

He pointed out key areas where IT is spawning new industries that will dwarf computing, including micro-miniaturisation, speech recognition and holographic displays, leading to advances in education, trans-formation of economic information, changes in medicine and the revolution of transport.

Ross added that when IT professionals run themselves down, they give a reason for funding to go to non-IT projects and for venture capitalists not to invest.

"Computing has just begun," he said. "It is just scratching the surface - the best is yet to come."



Karl Schneider

Editorial director, Computer Weekly

"The £67bn to be spent by users this year on all IT in the UK, including software, services, hardware, telecoms and recruitment, is the highest ever spent on IT," said Schneider.

"The growth rate of IT still outstrips GDP growth. IT growth rates have fallen from 12% in the 1990s to about 4% today and this has had a dramatic effect on expectations. However, 4% is still significant and the envy of many other industries."

Schneider said smaller IT suppliers were reporting growth rates of 18%. On user spend he said, "Small and medium-sized companies with fewer than 500 employees are spending on IT at about twice the rate of companies with more than 500 employees."

What do you think? E-mail columns@computerweekly.com

Download this free guide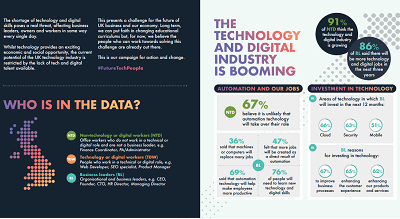 Infographic: Future-proofing UK technology
The current potential of the UK technology industry is restricted by the lack of tech and digital talent available. Read through this challenge for the future of UK business and our economy.
By submitting your personal information, you agree that TechTarget and its partners may contact you regarding relevant content, products and special offers.
You also agree that your personal information may be transferred and processed in the United States, and that you have read and agree to the Terms of Use and the Privacy Policy.