Riding the wave of change
CIOs can thrive as pace of change quickens, argues Des Lee

CIOs can thrive as pace of change quickens, argues Des Lee
New skills are needed for CIOs to ride the changes that will transform IT. And forging effective new relationships both outside and within the business will be vital.

Chief information officers are now recognising that the future is not entirely in their own hands, as can be seen from the latest CIO ConnectCensus.

Download this free guide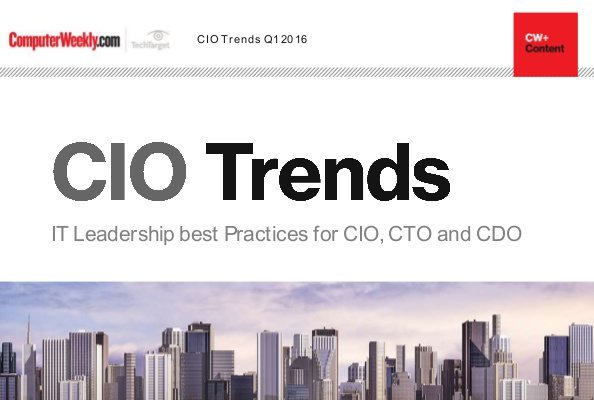 Your exclusive guide to CIO trends
A collection of our most popular articles for IT leaders from the first few months of 2016, including: - Corporate giants recruit digitally-minded outsiders to drive transformation - Analytics platforms to drive strategy in 2016 - Next generation: The changing role of IT leaders.
By submitting your email address, you agree to receive emails regarding relevant topic offers from TechTarget and its partners. You can withdraw your consent at any time. Contact TechTarget at 275 Grove Street, Newton, MA.
You also agree that your personal information may be transferred and processed in the United States, and that you have read and agree to the Terms of Use and the Privacy Policy.

For the past three years, being a CIO has not been easy. While the rest of the enterprise was enjoying a mini boom, the poor CIO had been called to task to spend less money, provide functionality to the business "on demand" and at the same time, deliver secure "end-to-end" service across the whole corporate stretch. Two out of three is not tolerated! Rather like waiting for a piano to drop on your head!
This relentless pressure to cut costs reduced the IT function to that of cash cow. Faced with the possibility of getting rid of people and putting service "on risk" CIOs retaliated in the only way possible, by beating up the suppliers. The results are plain for all to see in the details of the CIOCensus, which surveyed 122 CIOs from a wide range of industries and the public sector. Three out of four CIOs still feel that their efforts to build strategic relationships are simply not matched by suppliers.
Now at last, there are some rumblings deep in the organisation that there is a new role for IT to play and the business is ready to back investment, but only if certain conditions are met like no "pioneering" and "who controls"!
So the question is, does the CIO have a future? The answer would appear to be a resounding "no", unless certain change factors are demonstrably met. Traditionally, CIOs were divided into two groups: "architects" and "plumbers". Plumbers connected up pipes down which data flowed. The plumbers' key attraction was technology, technology and technology in that order.

Architects, on the other hand, took the strategic business plan and figured out how best to deliver on the promises through the prudent application of IT. However, the role was one of sweeping up after the parade - the CIO had not yet made the quantum leap of being seen and recognised as an essential contributor to the art of what was possible.
Many would argue that the new role for the CIO is that of "change warrior". But to fulfil this role well requires a totally different approach and a new skill set. If we are to examine the new skill requirement for managing change, then of course you still need the CIO's staple capability of analytical skills backed up with a good grounding in technical knowledge.
But here is the rub, to be a good change manager, you also need excellent communication skills and political nous. Sadly, these qualities have never been top of the list when recruiting a new CIO.
Going back to the census, all of the CIOs interviewed believe that significant IT-related opportunities have yet to be exploited in their organisations. The key question is, by whom? Backing up this key point, there was unanimous agreement that there is real need to improve relations with the business by adopting a "realistic two-way or three- way by including suppliers" method of communicating with the business, end-customers, suppliers and all who need to know. It is not enough to publish a weekly newsletter or run out usage statistics based on erroneous service level agreement figures. Also, it is essential that the new message is in businessese and not technospeak.

There is no doubt that the next thrust for the new CIO will be to continue to improve business processes and provide key financial information as usual, but the emphasis is less on exploiting new technologies and more about improving business efficiencies. But this time the role has to be proactive, not reactive.
Consequently, many of the new breed of CIOs are being recruited from the business. In many cases, the change of CIO coincides with the appointment of new chief executives and non-executive directors. The new breed of leaders tends to be IT literate. It is interesting that two years ago, the CIO's aspiration for their next post was to be the CIO of a much larger organisation. But, surprise, surprise, last year half of CIOs declared their goal was be a chief executive within five years.

So what can be said in summary? Certainly among the CIO community, the latest census would have us believe that CIOs' optimism on the business outlook is wavering, although half are still of the opinion that the global economy is sound. There are variations across sectors. The good news is that there is a general feeling that investment money can be found for the right business venture. Of course, the case must be well presented and articulated.
To compete in the new arena requires much to be done through practising communication and political skills, although the jury is still out on whether these skills will be home grown or bought in.
On the suppliers' side, suppliers must realise that relationship builders who will put the time and effort in to understand the change agenda will be long-term winners. But this activity will also require a new skill set away from the traditional product knowledge base.

So, is there a role for the CIO in the future? Probably not in the present form, but existing CIOs should take comfort in the fact that there is a real challenge out there to seize with both hands. What will the future CIO look like? Probably from a business background, part pirate, part politician and part entrepreneur. Technical skills will be hired in as suppliers are asked to bear the brunt of emerging technology research in a true business context. After all, somebody has to be capable of specifying, managing and delivering an "in-sourcing" project".
Des Lee is the founding director of CIO-Connect

Read more on IT jobs and recruitment