bas121 - Fotolia
Will people be at the heart of your business transformation?
Areas of the business that hold workforce data face a huge opportunity to help their organisations accelerate end-to-end transformation and increase their odds of success
Ernst and Young has shown that the mergers and acquisitions (M&S) market is at its strongest in six years, with six in 10 companies actively pursuing acquisitions.
Organisations should be preparing for significant change and transformation in the next 12 months if they are going to deliver the promised value of high-growth strategies.
M&As can deliver huge value for companies looking to secure innovation, competitive advantage and increased market share. And yet the workforce, those that will end up delivering that value, are often a secondary consideration in deal-making. This is detrimental to the organisation as a whole as it may end up with a design that lacks cohesion and the ability to deliver the company's long-term goals.
There is a high risk of losing top talent along the way, with employees at the end of unfair and unclear decision making. According to Forbes, 50% of all M&A deals turn sour. Organisations must manage their post-merger integration carefully, or else they are risking their business on a "coin toss".
The value of workforce data in transformation
Those functions which hold workforce data face a huge opportunity to help their organisations accelerate end-to-end transformation and increase their odds of success.
Pre-transformation: Companies with a clear understanding of the structure and location of their workforce alongside an appreciation for people's roles and competencies can assess and model the impact of change much more effectively to support growth-based decision making.
In-transformation: Transformation work often stalls or goes off-course, with increased risk that key individuals will either be dropped or leave in the uncertainty of a transition. Those which can use workforce data to inform and track decision-making will not only accelerate a transition but improve its results.
Ongoing transformation: Big events are often the drivers of change in an organisation. Organisations that thrive best are those with the bandwidth and agility to nurture an ongoing design and transformation.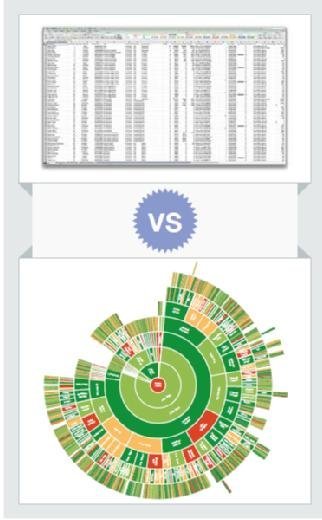 Where should we look to for workforce insights?
Typically, post-merger integration gets passed to the human resources (HR) or organisational design (OD) department. Short-term deadlines, alongside a raft of complications including data security, systems integration and data inconsistency across the legacy organisations, contribute to M&A failures.
So there is a clear need for HR and OD teams to be able to deal with the uncertainty faster. This means addressing areas including:
People data: Those in people functions often use data quality as an excuse when it comes to workforce data. In reality, workforce data is some of the best data in the organisation and it is relatively easy to work with given its size. The key is to agree on consistent metrics. A recent report showed only 17% of HR professionals use HR analytics software. Given 73% of those same respondents recognise the value analytics can bring, they must support their instinct to help deliver value.
Process data: Understanding headcount is important, but even more critical is knowing who is doing what, where in the organisation and how they are impacting the business. Process flow and an understanding of the resources placed on high-value versus low-value activities can help build more effective ways of working into the new organisation.
Business data: It is important to avoid treating people in isolation. They must be connected to business outcomes to improve both individual and company performance. For example, connecting employee and customer insights.
Technology: Large-scale human capital management, payroll and recruitment software are not fit for purpose when it comes to agile modelling and analysis of the organisation. Organisations about to go through change must be ready to use technology which assists rather than elongates the process.
Who is responsible for people change and transformation?
People decisions naturally fall to the HR department, and yet with such big change on the horizon for many companies, responsibility rests on a number of shoulders.
Leaders and CEOs must stress the importance of having the right management information and expect more when it comes to workforce insights. This will drive improvement from people functions to become more strategic and data-driven.
Download a chapter from Rupert Morrison's book
Equally, IT must help facilitate rather than block change. Sensitive employee data must be treated with care, but just as finance and marketing require advanced systems to help process and understand their data, so do people functions. IT needs to find ways to adhere to security protocols while supporting people functions to deliver the value workforce data offers.
Underlying this functional responsibility, everyone must recognise that those with the most valuable data are employees themselves. Collecting and using that data effectively means empowering and aiding employees to give fast feedback and input into change. Bringing the workforce into the heart of M&A and transformation decision-making and implementation means effective collaboration among all organisational functions. The results promise to drive employee and shareholder value, so efforts to make it happen need to be world-class.
---
Rupert Morrison is the author of Data-driven organization Design, which is available in the US from Amazon.com and BN.com. Computer Weekly readers can get a 20% discount here by using the code HRDDODCW.