Why Universal Credit IT concerns mean the project needs to be paused
The Universal Credit Rescue Committee advised Labour to pause the controversial programme – its IT expert explains why
Last week, the Universal Credit Rescue Committee issued an independent report to the Labour party, advising how the welfare reform programme might be rescued should they come to power in 2015.
The project is unusual in that it is supported by the government and opposition. Both feel Universal Credit (UC) has the potential to simplify working age benefits, so it will be much clearer to people how their financial position would change on moving from unemployment into work.
The initiative itself is a massive change project. Up to 10 million people are affected in some way by the benefits system. However, as with all major government change projects where IT makes up a significant component, Universal Credit has attracted a great deal of press interest and a fair degree of controversy.
The disappointing track record of delivery in government IT over the last decade means any large programmes cannot avoid being caught in the cross-hairs of public scrutiny.
The first consideration of the rescue committee was to establish whether there was sufficient congruence between the stated goals of the current project and the policy objectives of the Labour Party.
Social policy
Experts in social policy set to work modelling these differences. They first looked at incentives before moving on to the question of payments. As a result of this work, various aspects of the current design were flagged for further review.
These included UC incentives for second earners in a couple, the decision to leave council tax support out of the scope of the project and how UC payments relating to children should be paid. It was also noted the current plan risks increasing red-tape for the growing number of self-employed. This work will continue to scope out and, if possible, cost any potential changes.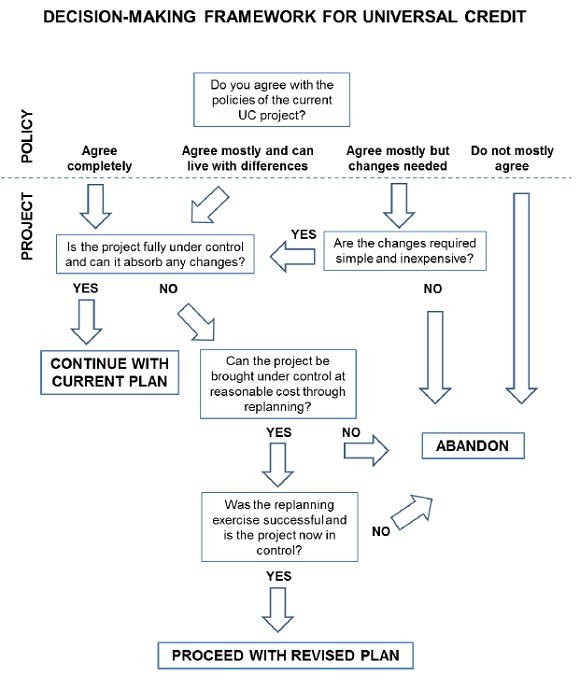 Universal Credit Rescue Committee flowchart
With the policy question yielding an answer of "agree mostly but changes needed" for the proposed decision-making flowchart (see diagram, left), the debate moved to the delivery aspects of the project – specifically, the question of whether it is under control.
Unfortunately, little information was forthcoming despite repeated requests from Labour politicians. Indeed many believe there is an unhealthy "veil of secrecy" surrounding the project.
As a result, the rescue committee was forced to rely on the sparse amount of data that is available in the public domain. This was largely confined to National Audit Office (NAO) reports and Public Accounts Committee (PAC) reports.
Initially, we were concerned that most of the material we found described what appeared to be a collection of IT projects. We found few documents that described process change or the large culture change that would be required to effect such a major upheaval in the benefit system.
This led us to suspect that the "agile" methods used to develop the system may have been creating new processes "on-the-fly", possibly in an ad hoc manner. This might also explain the apparent absence of a master design blueprint. This was disappointing.
Process change
The most successful major change programmes I have been involved in were primarily conducted as process change initiatives. Information technology takes a secondary role automating and policing the new business processes and workflow.
In terms of the project itself, we have little confidence that it is in a controlled state. We could find no clear set of detailed plans, nor any comprehensive master blueprint for the design. We also noted that few, if any, of the original project milestones have been adhered to and it appears that much rework is going on.
For example, in December 2013, the NAO comptroller and auditor general reported that the project had generated assets worth £196.1m. He also noted that £40.1m of those assets have been written off and will never be used. and that the project expects to write off a further £91m of assets by March 2018. This suggests a substantial rewriting exercise is already underway.
In an industrial context, these levels of write-offs would prompt even the largest PLCs to consider immediately halting such a programme. Nobody likes "runaway train" projects.
We also have little confidence that the project is as yet recovering. We understand the original plan predicted that a million claimants would be using the system by April 2014. However, in November 2013, the Public Accounts Committee was told that the project had a target of enrolling 184,000 claimants on UC by April 2014 - but by February 2014, we understand that just 5,180 were actually claiming.
Going forward, we earnestly hope that the implementation of UC into the pathfinder councils in the remainder of 2014 begins to hit the stated milestones, creating some confidence that the project is recovering and can be made viable going forward.
Given this evidence, we felt that the only responsible option was to recommend that should Labour win the next election, a pause should be taken in the Universal Credit project to assess whether it is safe to proceed.
Large programmes of national importance deserve to be open to appropriate levels of public scrutiny
We believe it is essential that a large and complex project such as this moves forward from a solid base with a robust plan that will carry the project though to deliver the full benefits, within budget, on time and to appropriate levels of quality. We do however, recognise that pathfinder deployment is already underway affecting many claimants and we would expect that work to continue during the pause.
We also recommended that the project team, the Department for Work and Pensions (DWP) and the government adopt a much more transparent attitude to communication. Large programmes of national importance deserve to be open to appropriate levels of public scrutiny.
Finally, we recommended that the NAO undertake all required audit activities during the pause. Given that the NAO has already completed high-quality audits of Universal Credit, we believe it has an unrivalled understanding of the project and is best placed to complete the work more swiftly and comprehensively than any other auditor, minimising any delays.
Questions that might be asked include the following, some of which are illustrated in the above flowchart:
Is there a comprehensive business case that clearly outlines the expected benefits that demonstrates that the Universal Credit project is viable?
Is there absolute clarity over what needs to be achieved, together with a stable specification that explains exactly how the new processes will work and how they will be automated?
Is the project being managed and staffed by people and organisations with appropriate levels of experience, track-record and expertise all of whom are capable of delivering the benefits of the project and ensuring safe roll-out in a timely manner?
Is the project fully under control and can it absorb the changes demanded by a new incoming government?
a). If not, can the project be brought under control at an acceptable cost with respect to the business case, through a re-planning exercise; and
b). Once such a re-planning exercise is completed, are we convinced that it was successful and that the project will now proceed to a satisfactory completion in a controlled fashion?
Are there appropriate "control gates" in place to ensure that all aspects of each phase of the plan are fully completed (and that projected "costs to completion" preserve the business case) before allowing the project to move safely onto each next stage?
In summary, from the limited evidence we were able to examine, we believe the project remains in an out-of-control state. We also believe it would be irresponsible for us to recommend the project continue to spend large quantities of taxpayers' money given that it has consistently failed to achieve its planned milestones to date.
With struggling projects there is a perennial risk of throwing good money after bad, while a runaway train scenario gathers pace. Instead, we recommend an incoming government satisfies itself that a solid business case exists and that the project is set up to deliver those benefits through a robust gated plan, professionally executed by capable people.
A short pause to take stock and make sure we have good answers to these questions seems the only sensible way forward given the evidence we have seen.
We need to know as quickly as possible if the project is under control or if it can be brought to a controlled state and whether it can absorb the policy changes defined above. We believe these questions could be answered within three months.
---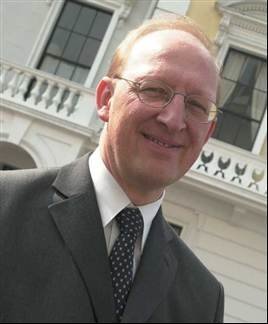 Dr Jonathan Mitchell has more than 30 years of experience in the IT industry and has frequently appeared in Computer Weekly's annual list of the most influential people in UK IT.
He is currently a director of CIO Strategic Advisors, a company recently set up to provide master-classes, coaching and advisory services to IT and C-level executives.
Prior to this he was the CIO, business process improvement director and corporate development director at Rolls-Royce plc for nearly a decade, before which he was a vice president at GlaxoSmithKline.
His first book "Staying the Course as a CIO: How to overcome the trials and challenges of IT Leadership" will be published by John Wiley & Sons in November 2014. Dr Mitchell took no fees or expenses for any of his work on the Universal Credit Rescue Committee. He was invited to contribute to the rescue committee as an independent industry representative.
Read more on IT project management