DragonImages - Fotolia
Raising IT's game through effective business relationship management
Business relationship managers in an organisation have a vital role to play in enabling digital transformation
Although the business relationship management (BRM) role has been around for many years, it has often failed to be the panacea it set out to be.
In a study of more than 35 organisations, research for the Leading Edge Forum found one-third of them struggling to move beyond the role of IT service provider, and more than half were failing to make the transition to a true business partner.
The BRM mission has always been to improve the communication, collaboration, co-ordination, negotiation, alignment, leadership and decision-making between IT and other key parts of the business, so IT can be exploited and leveraged better. Unfortunately, in many organisations this remains easier said than done.
Having worked closely with dozens of organisations and hundreds of individual BRMs over the years through advisory work, training initiatives and its recent research, the Leading Edge Forum has devised a simple three-part formula to ensure IT organisations make the transition from IT service providers to true business partners. They need to:
Get the basics right: To earn an expanded mission, enterprise IT needs to provide professional IT operations and project delivery.
Get the right BRMs: BRMs need an extensive and difficult-to-find skillset – many of the crucial qualities are innate. The Forum's research indicates that diverse backgrounds and experiential training can help.
Create a supportive organisational culture: This means visible advocacy from the top, clear and consistent messages and expectations across the company, and an atmosphere that promotes open and candid conversations.
These three factors create a formula for BRM success, and companies should evaluate themselves in all three areas. It might sound simple, but there are many significant challenges.
Modes of enterprise IT
About a decade ago, the Leading Edge Forum identified four distinct "modes" of enterprise IT operation that determine IT's overall relationship to the organisation – provider, promoter, partner and peer. The scatter diagram (below, left) is broadly representative of the state of enterprise IT today across industries and geographies. Just about every firm can benefit by having a more mature and effective BRM capability.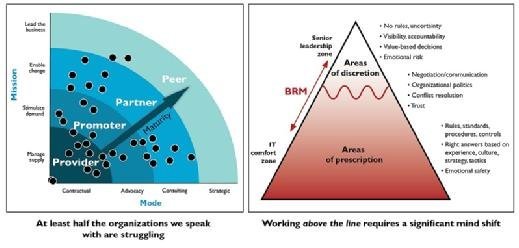 The transition from promoter to partner has long been the most frequently cited challenge. To achieve this goal, BRMs must be able to transcend the "wavy line" (above, right). The model depicts the concept of the wavy line and the challenges associated above and below. It illustrates the difference between prescription – following orders or regulations laid down by systems, processes or a rule book – and discretion, which is making decisions based on internal values or considered judgement applied to a specific situation.
Below the wavy line is where traditional management takes place. Here a lot of what is done is prescribed by the rules of the organisation, the culture and instructions from above. This is where BRMs in the provider and promoter mode operate. It is restrictive but relatively safe and comfortable territory.
Above the wavy line is where leadership takes place. Here the world is ambiguous, uncertain and multifaceted – there are few, if any, rules. Moving up the maturity model to partner and peer necessitates a transition above the wavy line.
In this territory, a BRM has a lot of discretion. BRMs at this level will have the courage to follow their convictions, to face the unknown, to take risks even when faced with opposition or resistance. They will have the confidence to challenge authority and accepted wisdom and will play a strategic role, where there are no right answers or objective tests. When operating above the line, BRMs are visible, but also exposed and potentially vulnerable.
The BRM must be capable of straddling both worlds, even when those needs conflict. BRMs must be sensitive to the day-to-day - often mission-critical – realities, while still meeting their organisation's future requirements.
The full report includes the top 20 BRM skills, qualities and attributes, which can be grouped into four key areas of competence:
Triple-deep skills – digital IQ, business IQ and emotional intelligence.
Drive, initiative, curiosity and outside-in thinking.
Courage and confidence.
Personal power.
These are a hierarchy of a BRM's personal traits and characteristics. At the pinnacle is personal power. Once a BRM has mastered the lower three levels, he or she is likely to have naturally attained the gravitas and charisma needed to build alliances and make a real difference both inside and outside the organisation. This is an area where many BRMs and IT professionals fall short.
The relationship between IT and the other business functions has been a subject of discussion for many years, and is still often described as a troubled marriage in need of mediation. In today's technology-driven world, it is now more important than ever to get past these differences if organisations are to truly exploit all that digital has to offer. An overall model for BRM and digital business success is shown below: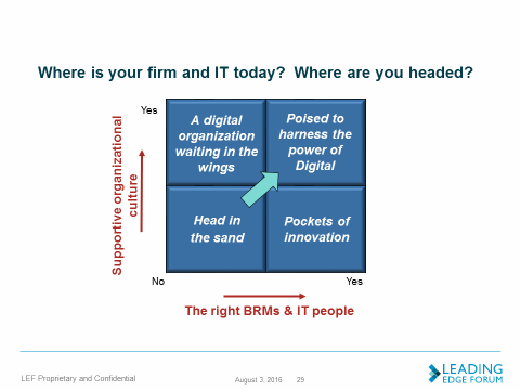 Whether or not your firm has dedicated BRMs, the quality of enterprise IT's relationship with the overall organisation depends on both the people within IT and the cultural attitudes towards IT across the organisation. Plot where you are and where you would like to be by using the organisational and individual assessments included in the report.
Looking ahead, companies will need a culture that embraces the fact that the centre of technology innovation has moved decisively outside of walls of the organisation. Anticipating and leveraging "the Matrix" of the digital ecosystem is becoming an essential part of what it means to be digital. Few people are better positioned to lead the firm in these areas than BRMs, but only if they have the right skills, attitudes and levels of personal effectiveness.
By giving BRMs the experiential training they need, companies can steadily raise the game of enterprise IT, and more effectively pursue the fantastic technology opportunities that lie ahead.
Read more on Managing IT and business issues