Second GCHQ Cyber Accelerator kicks off
Nine cyber security firms have been chosen to take part in the second GCHQ Cyber Accelerator, which is aimed at helping UK startups take the lead in producing the next generation of cyber security systems
More than 100 cutting-edge cyber security entrepreneurs and startup firms applied to join the second programme in the GCHQ Cyber Accelerator, but just nine were chosen for the nine-month programme.

Download this free guide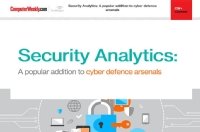 How to improve your cyber security with security analytics
Download this e-guide to read how many firms are looking to security analytics to keep abreast of the ever-evolving world of cyber threats. With traditional approaches to cyber security proving less effective against increasingly sophisticated and automated cyber-attacks, security analytics may well be your knight in shining armour.
Representatives of the chosen companies outlined how their innovations aimed to address real-world cyber security challenges at the official launch of the second programme at the National Cyber Security Centre (NCSC) in London.
The companies taking part in the second round of the accelerator are: anti-phishing firm Cybershield, secure software coding training firm Secure Code Warrior, transport network security firm RazorSecure, illicit cryptocurrency investigation firm Elliptic, vulnerability management firm Intruder, verified parental consent provider Trust Elevate, website account protection firm Warden, secure cloud connectivity service Iotec and remote data locking service ExactTrak.
In March 2017, seven cyber security startups graduated from the first three-month accelerator programme, aimed at boosting initial sales and business development and securing follow-on third-party investment.
Dan Brett, co-founder of deception platform provider CounterCraft, said that since taking part in the first round of the accelerator, the company has had a "fabulous run" and been able to treble the number of its employees and customers.
The expanded programme will give the selected startups more time with the world-class personnel and technological expertise of staff from across GCHQ, including the NCSC, enabling them to expand their capability, improve their ideas and devise cutting-edge products.
The accelerator is part of government efforts to boost the UK's £22bn cyber security sector, which currently contributes about £2bn a year in exports to the UK economy. It is also the first step in delivering the Cheltenham Innovation Centre, the first of two planned innovation centres, with the second set to open in London.
The programme will again be delivered by Wayra UK, part of Telefónica Open Future, in collaboration with GCHQ, the NCSC and the Department for Digital, Culture, Media and Sport to help new firms turn their ideas into commercial products and services and contribute to the booming UK cyber security sector.
Read more about UK cyber security innovation
Chris Ensor, NCSC deputy director for cyber skills and growth, said the accelerator offers the opportunity to combine the NCSC's insights into cyber risk and deep expertise with agile companies with new ideas. "Together, we believe we can provide novel solutions to the UK's cyber security challenges," he said.
Digital minister Matt Hancock said it is essential that the UK leads the way on cyber security to fulfil the ambition of making Britain one of the safest places in the world to be online.
"The GCHQ Cyber Accelerator programme is a great example of government, industry and tech startups coming together to benefit from the advice of world-class experts and tackle cyber crime," he said.
Cyber security is a mission-critical part of the UK's national security, said Hancock. "In government, we have put a very large budget behind it, and also stated that it is a tier-1 national security issue. We have brought together the NCSC to make sure that GCHQ is more outward-looking and also has a foot in the business and academic world.
"And ultimately, I believe very strongly that business done right is a force for good in the world, and that by developing their businesses, these startups are making the internet a safer place, thereby allowing more people to enjoy the benefits that this amazing technology brings."
Gary Stewart, director of Wayra UK and Telefónica Open Future, said innovation is key to protecting the world against cyber threats.
"And there is no question that the GCHQ Cyber Accelerator is a forward-thinking collaboration," he said. "The cyber startups that have joined the accelerator are an exceptional group of companies, and I can't wait to see what they achieve with the help of world-leading expertise from GCHQ, NCSC and Telefónica."
Read more on Hackers and cybercrime prevention